From The World Against Malaria to Imagine No Malaria
(Published: May, 2016, Volume 16, Number 2, Issue #41)
(
Table Of Contents
)

(Author: Holly Hirchert)
The World Against Malaria
On October 21st, 1960, at the 26th Session of the World Health Organization, a proposal was made for the issuing of postage stamps world-wide in order to help fund the global program for the eradication of malaria and increase world-wide publicity and education about the fight against the disease. Over 100 countries produced stamps, souvenir sheets, or slogans with the "World United Against Malaria" theme.
At that time, there were two main methods of "fighting" malaria. The most successful was spraying houses with insecticide, specifically DDT, to kill the mosquitoes. The other was eliminating marshes to reduce the number of places where the mosquitoes could lay their eggs. Countries with adequate funds had a third method. They distributed anti-malaria medications, but the effectiveness was dependent on the individual taking the recommended dose at the proper interval. Most people living in the developing world were not used to this practice. Having lived in a country where malaria was prevalent, I can personally say that the people were surprised that I took a weekly anti-malarial pill plus a daily multivitamin pill. It was a strange concept to them.
In 1992 The Malaria Foundation was founded by Dr. Mary R. Galinski. Malaria researchers and experts in a variety of professions joined her with a plan for a private international entity dedicated to the effective prevention, treatment, and control of malaria. This led to the registration of the Malaria Foundation, Inc. as a tax-exempt 501(c)(3) non-profit organization in 1993. It was subsequently renamed the Malaria Foundation International (MFI). The MFI website
1
states that there were up to 500 million annual cases of malaria at that time.
Nothing But Nets
In May 2006, Rick Reilly, a sportswriter, was inspired by a BBC documentary about malaria. He wrote an article for Sports Illustrated asking his readers to donate $10 for the cost of an insecticide treated bed net—to protect children in Sub-Saharan Africa from malaria carrying mosquitos. He contacted a group called Roll Back Malaria that had been working with the United Nations Foundation. During a conversation with the director, Elizabeth McKee Gore, he decided to call the project Nothing But Nets
2
. In the first week after he article was published, contributions totaled over one million dollars.
Many groups became involved in the Nothing But Nets campaign including the National Basketball Association, Major League Soccer, the Bill and Melinda Gates Foundation
3
and several religious denominations. Now in its tenth year, the campaign has raised $60 million and delivered nearly ten million nets through its UN partners to protect refugees and families across sub-Saharan Africa from malaria
4
.
Imagine No Malaria
In 2010, the leadership of the United Methodist Church (UMC) began the Imagine No Malaria
5
initiative in partnership with the United Nations Foundation with the intent to eliminate death and suffering from malaria in Africa by 2015. The initial goal was to raise $75 million over 5 years. Four areas of action were identified:
Prevention: Providing bed nets to people through Nothing But Nets.
Education: Training of community health workers and teaching people how to protect themselves from malaria by emptying containers that might hold stagnant water.
Communication: Building radio stations and distributing hand-crank and solar powered radios to remote areas.
Treatment: Equipping hospitals and community health workers with rapid diagnosis kits and medication for those infected with malaria.
Each United Methodist congregation was asked to participate in raising funds. Eventually the Bill and Melinda Gates Foundation, the Alliance for Malaria Prevention
6
, and the Global Fund
7
joined the effort.
By the end of 2015, over 2,300,000 bed nets had been provided, 4.6 million lives had been impacted by education. Over 11,600 local health workers had been trained to go door-to-door delivering bed nets, installing them, and teaching people how to care for the nets. Out of the hundreds of hospitals, clinics, and health outposts operated by The United Methodist Church in Africa, 300 had been maintained with diagnostic kits and life saving medicines.
So what has been accomplished?
In 2007, the World Health Organization estimated there were more than 1,000,000 malaria related fatalities and a child in Africa was dying of malaria every 30 seconds. In 2015, the number was reduced to 438,000 deaths and in Africa a child dies of malaria every 2 minutes. While that is still a staggering number, an over 50% reduction in the number of deaths is worth celebrating!
Recent Malaria Stamps
In the last few months, philatelic items using the slogan "The Fight Against Malaria" have been appearing on eBay from countries in Africa. Below is a souvenir sheet from the Republic of Burundi, issued in 2013, that I purchased in February. At 7,500 francs this is several times the cost of mailing a letter inside Burundi. I have not been able to determine where the money goes from the sale of these items.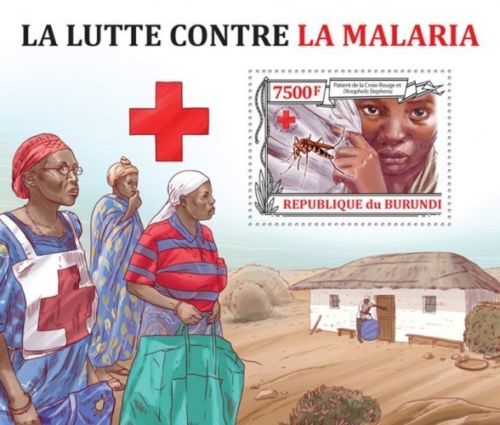 References: