Maldive Islands - Bud's Big Blue
(Published: June, 2020, Volume 20, Number 2, Issue #51)
(
Table Of Contents
)

(Author: Bud)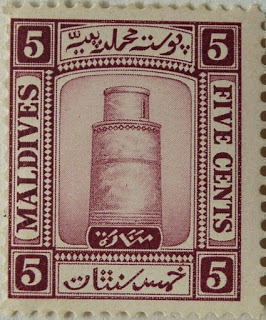 1909 Scott 9 5c red violet
"Minaret of Juma Mosque, near Malé


Bud's Observations
It's not a silo. It doesn't store crude for an oil refinery, nor fresh water for a nation of thirsty islands. And it's not a colossal wedding cake that Gulliver discovered in Brobdingnag, the fictional land of giants (Gulliver's Travels, 1726), although it appears to have Brobdingnagian dimensions.
It's the coral stone minaret built in 1675 by Ibrahim Iskandar I in Malé, the capital of the Maldives, following his pilgrimage to Mecca. The minaret was meant to resemble those at Mecca's gate. It adjoins a mosque, also built of interlocking coral stone, and a 17th century cemetery with elaborately carved tombstones and mausoleums, the burial site for sultans and other notables. Ibrahim's minaret doesn't look quite so formidable in the postcard shown below. It's only about 50 feet tall, counting the top layer of the cake (my estimate).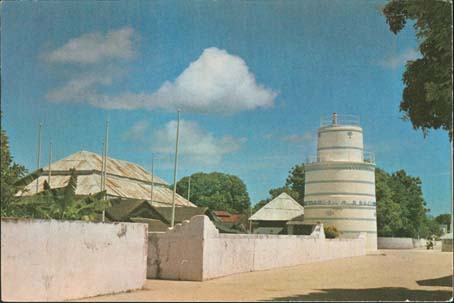 The Old Friday (Juma) Mosque and Minaret, Malé
All Big Blue spaces for The Maldives are reserved for stamps showing the minaret. I did, however, sneak an earlier King Edward into a blank space.
The postcard is itself collectable, being a "Dear Doctor" advertisement for a new medicine, in this case Pentothal Sodium, an anti-malaria drug, aka "truth serum" in spy novels and movies of the 1950s and 60s. The Abbot pharmaceutical company sent these postcards to physicians from exotic countries to promote use of their wares. If you're interested in praiseworthy junk mail, check out Malaria Philatelists International, a society devoted to Malaria-related stamps, and "The 'Dear Doctor' Postcard Collector Club."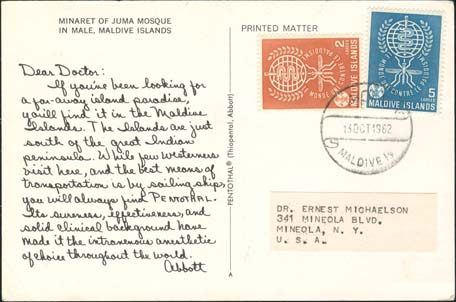 Message side (1)
Jim's Observations
The Maldives archipelago of some 1200 islands (192 inhabited) is located in the Indian Ocean 400 miles from Ceylon. The atolls are spread out over 35,000 sq miles (90,000 sq km), with an average ground level of 5 feet, the highest point at 8 feet. As one can imagine, tsunamis, and predictions of higher ocean levels are of ongoing concern.
The Maldives were originally explored by the Portuguese in the 15th century, then by the Dutch in the 17th century. But in 1887, the Sultan of the Maldives signed an agreement with the British Ceylon Governor that made the territory a British Protectorate as a dependency of Ceylon, albeit with internal self-government.
Reference / Original Article
With permission, this article has been reproduced from a blog website titled "Big Blue 1840-1940" at
http://bigblue1840-1940.blogspot.com/2020/04/maldive-islands-buds-big-blue.html
. The main page of this has this description:
A is for Aden and Z is for Zanzibar... Now what is between? For the world wide classical era philatelist and stamp collector, a country specific philatelic survey is offered by the blog author, Jim Jackson, with two albums: Big Blue, aka Scott International Part 1 (checklists available), and Deep Blue, aka William Steiner's Stamp Album Web PDF pages. In addition, "Bud" offers commentary and a look at his completely filled Big Blue. Interested? So into the Blues...