Lundy 1982 Set With Mosquito Overprints
(Published: May, 2015, Volume 15, Number 2, Issue #38)
(
Table Of Contents
)

(Author: Larry Fillion)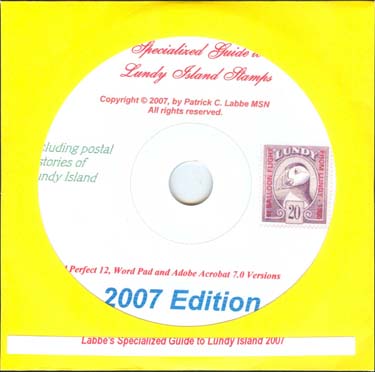 Labbe's Specialized Guide to Lundy Island (2007)
During the early months of 2015 on
eBay
(and I think also on
Delcampe
), I started seeing the Lundy puffin stamps which were issued in 1982 with a mosquito overprint. Most of the stamps had a black mosquito but one had a red mosquito. As some of the items were being purchased on the auction sites, more items appeared and I wasn't sure how many examples of these there were. The items do not seem to be on the eBay site anymore and maybe they are all sold. An MPI member sent me an email that he had purchased a set and was curious to know what I thought.
I do know a few experts in the Lundy philatelic field so I inquired and was told that these issues are fakes. But I thought I would do a little more investigation. There are also a few specialized Lundy catalogs that can be checked. "Stamps of Lundy Island: An illustrated priced guide and handbook" by Newman (printed in 1984) is one of them but I do not have this Newman catalog. But I do have a 2007 edition of "Labbe's Specialized Guide to Lundy Island" which is on DVD and is illustrated with this article. There is no mention of this overprint in the catalog that I could find.
Although these are fake overprints, they are/were selling for a dollar each (plus shipping but I am sure the buyer could get combined shipping from the seller) so getting a collection of these would not cost much. I did not and maybe they are gone forever?
And I have seen at least one inverted overprint and there may be more which come to the market.
Labbe's 234 with
Inverted Mosquito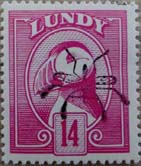 *If any reader has any more of these overprinted stamps with other inverted overprints or colors, please contact me at
malariastamps@yahoo.com