ArtCraft Kennedy Malaria Cachet Varieties
(Published: January, 2015, Volume 15, Number 1, Issue #37)
(
Table Of Contents
)

(Author: Larry Fillion)
A while ago, Washington Press purchased ArtCraft. Washington Press currently produces new ArtCraft FDCs and also owns what is left of the ArtCraft archives. Much of the archives were sold to Henry Gitner and has been selling of the metal plates used for the ArtCraft cachets for many years now. I was lucky enough to be in contact with Jim Devaney from Washington Press. He looked through the rest of the archives and found some unserviced ArtCraft anti-malaria covers. Tim said that he looked everywhere for other plates and anything interesting but only found some unserviced FDCs. They did not seem to be exciting to Tim but they were exciting to me as I wanted to use them in my four frame ArtCraft exhibit. Below are the unserviced ArtCraft covers which were produced for the United Nations Scott 102 and 103 issues from 1962.
Unserviced ArtCraft FDC - Big Six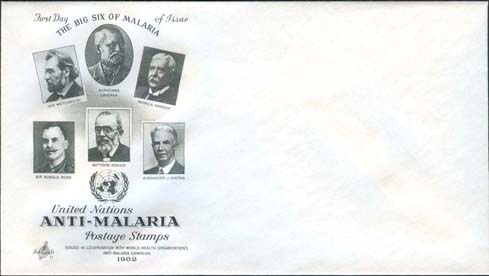 Unserviced ArtCraft FDC - Pampana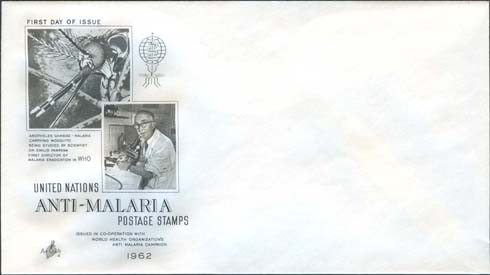 I also received a few unserviced ArtCraft Kennedy covers which were produced for United States Scott 1194 in 1962. There was a note attached with the words "Kennedy Malaria (Changed?)". I looked them and nothing looked different to me. Kennedy's image was the same, the man spraying was the same, nothing looked different. I showed them to Tony Dewey (he is the past President of the United Nations Philatelist Inc.) and is also an experienced exhibitor, judge, and also a friend. He looked at the two covers for a minute and quickly said the text at the bottom is different. Below are the two pieces of text which are clearly different:
| | |
| --- | --- |
| Text - Kennedy Version 1 | Text - Kennedy Version 2 |
Below are the note and the two unserviced FDCs. I have since gone through my ArtCraft Kennedy FDCs and closely looked at the text at the bottom to determine if they are Type 1 or Type 2. Mike Birrer (Chief Editor of the MPI Handbook) has done a great job and gone through and updated all of the handbooks with the new cachet information. For an example, the two types are Cachet 7 and Cachet 7A in the
United States (1962) Scott 1194
handbook.
Note Attached to Unserviced Kennedy FDCs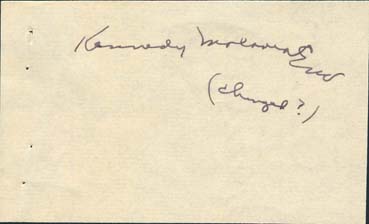 Unserviced ArtCraft FDC - Kennedy Version 1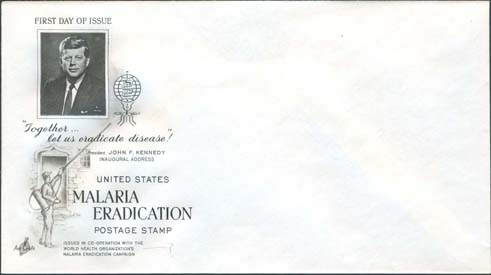 Unserviced ArtCraft FDC - Kennedy Version 2