United Nations 102-103 Last Day Of Sale
(Published: January, 2015, Volume 15, Number 1, Issue #37)
(
Table Of Contents
)

(Author: Larry Fillion)
The United Nations New York Postal Administration sets a date when stamps will come off sale. This is publicized and the information was mailed to subscribers of UN postage when orders of UN stamps were sent through the mail. I have seen a few of the "Last Day of Sale" covers with a few different United Nations stamps and I own a few with the United Nations Scott 102-103 - 1st And 2nd Printings. The ones below are from my collection. One of the covers below is addressed to "A. Terins". Arnold Terins was a stamp dealer of United Nations material and had a lot of "philatelic" material created to be sold.
Last Day Of Sale Cover w/ Scott 102-103 - 1st And 2nd Printings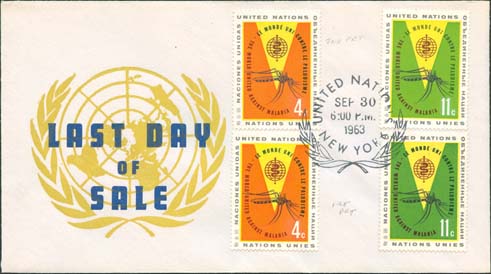 Last Day Of Sale Cover w/ Scott 102-103 - 2nd Printings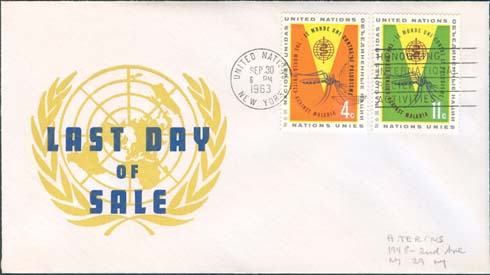 The cover below has a 4¢ United Nations Scott 102 anti-malaria stamp on it and it is cancelled with a Gaines Slogan 13 cancellation "Honouring International Relief Activities" (The Gaines catalog has over 2500 pages of data for stamps, cancellations, meters, cachets, souvenir cards. It also has information for first day and last day of use of slogan cancellations and last day of sale for stamps.) Slogan 13 was in use from May 8, 1963 to March 20, 1964. The cancellation does not have a date in it. The United Nations Postal Administration follows the rules of the United States Postal Service (USPS) and in this case, when third class mail is cancelled, more often than not, there is no date in the cancellation. This lack of dating was a protective measure of the USPS so the receiver of the mail did not know how long the mail took to get there. The 4¢ stamp was paying the correct Third-Class Single Piece rate which was in effect from January 7, 1963 to January 6, 1968.
3rd Class mailing (contents dated September 15, 1963) with United Nations Scott 102.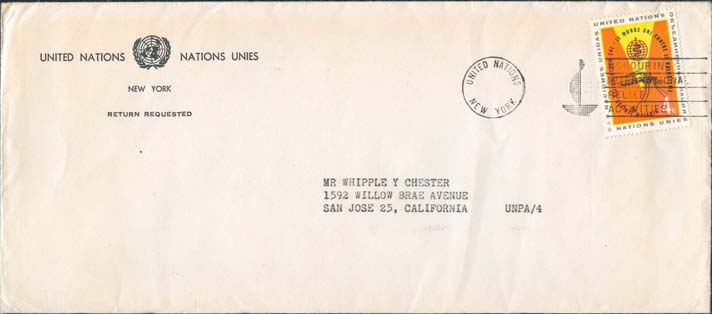 But the envelope/cover with the anti-malaria stamp on it is not the important part of the item. It is the contents. Below is a scan of a snippet from page two of the contents stating "WITHDRAWAL OF COMMEMORATIVE STAMPS - The Malaria Eradication stamps which were placed on sale on 30 March 1962 will be withdrawn from sale on 30 September 1963". This cover and contents go nicely with the Last Day of Sale covers. All four pages of the contents are shown below.
WITHDRAWAL OF COMMEMORATIVE STAMPS snippet


Third Class mail contents - page 1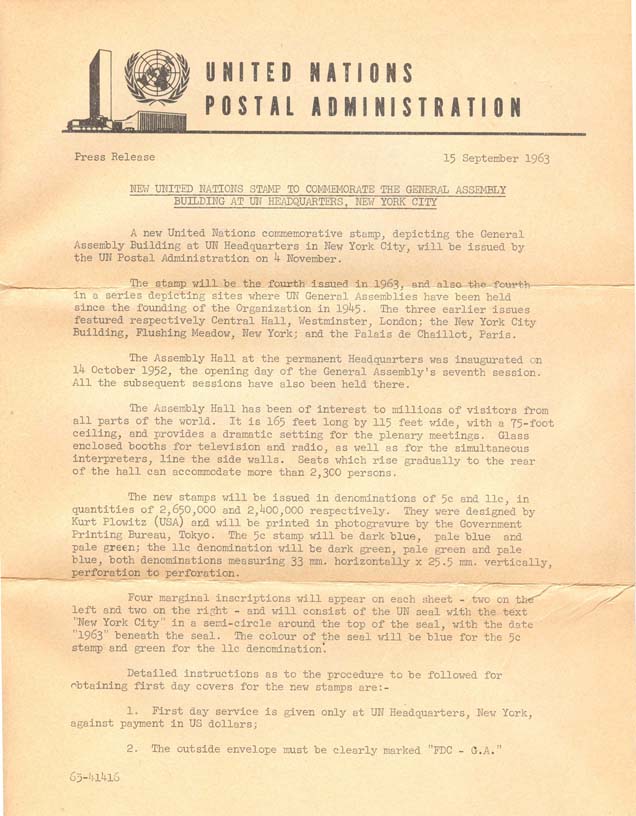 Third Class mail contents - page 2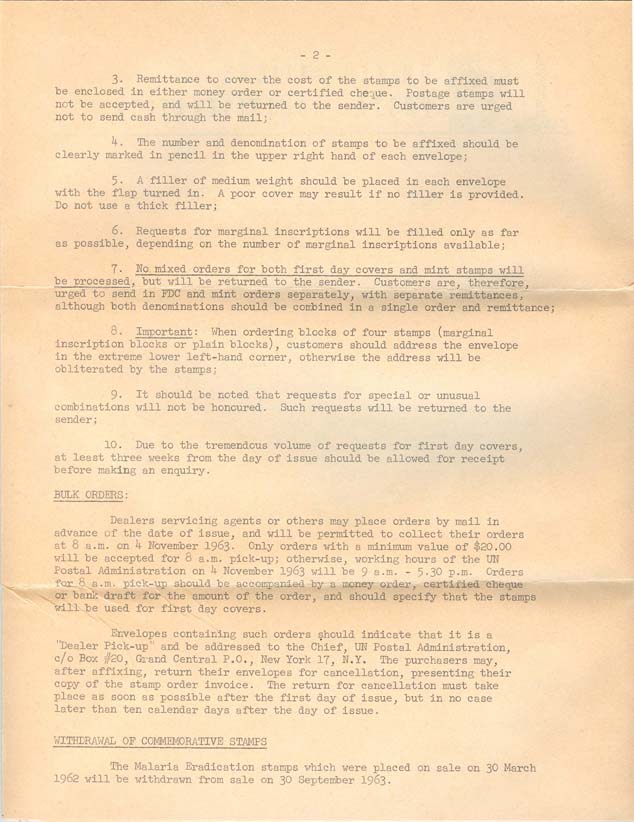 Third Class mail contents - page 3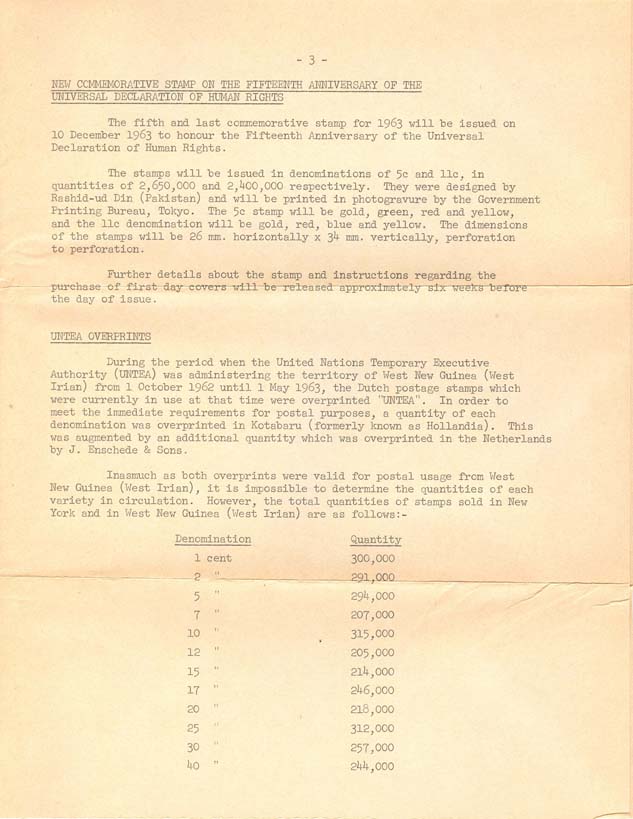 Third Class mail contents - page 4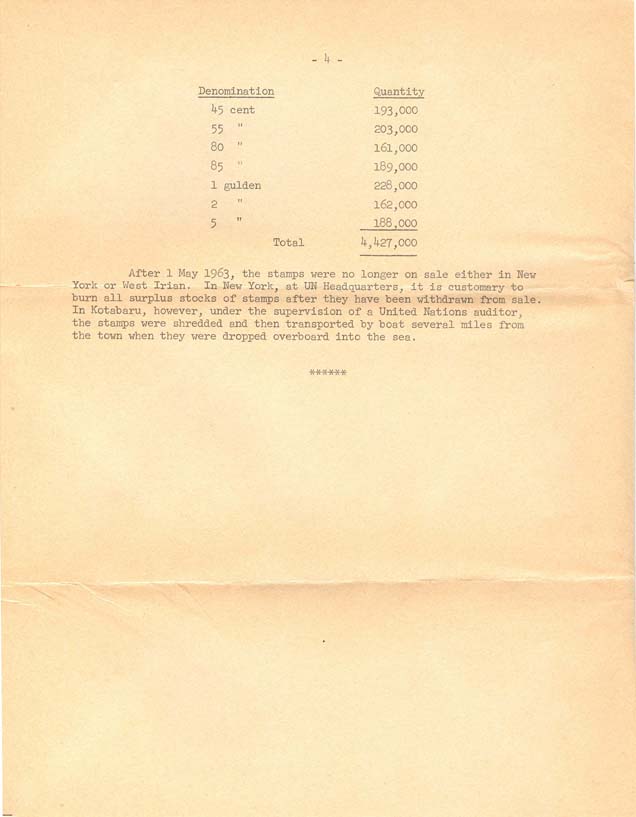 References:
"U.S. Domestic Postal Rates, 1872-2011 - Revised Third Edition" written by Henry W. Beecher and Anthony S. Wawrukiewicz
"United Nations Catalog, 1980 and Supplements" edited by Arleigh Gaines
If any reader has other withdrawal notices of the anti-malaria stamp, please email me at
malariastamps@yahoo.com
.