Captain John G Franclemont and the 21st Malaria Survey Unit
(Published: April, 2014, Volume 14, Number 1, Issue #35)
(
Table Of Contents
)

(Author: Kelly Horn)
A number of the leaders of malaria survey units in World War II went on to become professional entomologists after the war. One was John G Franclemont who received his bachelor's degree in 1935 and his doctorate in 1953 both from Cornell University. He retired as professor emeritus from Cornell University and donated his 350,000 insect specimens to the Cornell University insect collection (cited 09 Apr 2013; http://rmc.library.cornell.edu/EAD/htmldocs/RMA03556.html).
Information regarding Captain Franclemont's military service includes the activation of his malaria survey unit in March 1943 (AF 380.2 1943). At that time, 1st Lt Franclemont was serving in the 4th Sanitary Corps laboratory at Fort McPherson, GA. Sanitary Corps officers were frequently assigned as sanitary engineers, malaria control officers, medical inspectors, and laboratory officers (Coates 1963), so with his background in entomology, it was expected that Franclemont would lead a malaria survey unit.
On 06 Apr 1943, 1st Lt Franclemont was to report in person to the commanding officer at the New Orleans, LA staging area for duty with the malaria survey unit (Hudnall 1943). With him was 2nd lieutenant David Schiffer, who served as the parasitologist for the 21st malaria survey unit (Mosely 1943). All malaria survey units were led by an entomologist and a parasitologist and supported by 11 technically trained soldiers.
A cover from the 1st malaria survey unit from the New Orleans Staging Area (N.O.SA 08 Feb 1943) illustrates the early organization status of the malaria units. Camp Plauche, just outside New Orleans, served as a training center for malaria survey and control units. Units completed a 4-week training program before being deployed (Camp Plauche cover). In 1943 and the first half of 1944, placement of the malaria units depended on projected troop requirements overseas; therefore, units were only activated after commanders requested them. Because considerable time was needed to locate the appropriate personnel and to train the units, it was common for 6 to 8 months to elapse from the time of the request to the arrival of the units at their overseas destination. There was never a time when there was a reserve of malaria units awaiting deployment (Coates 1963).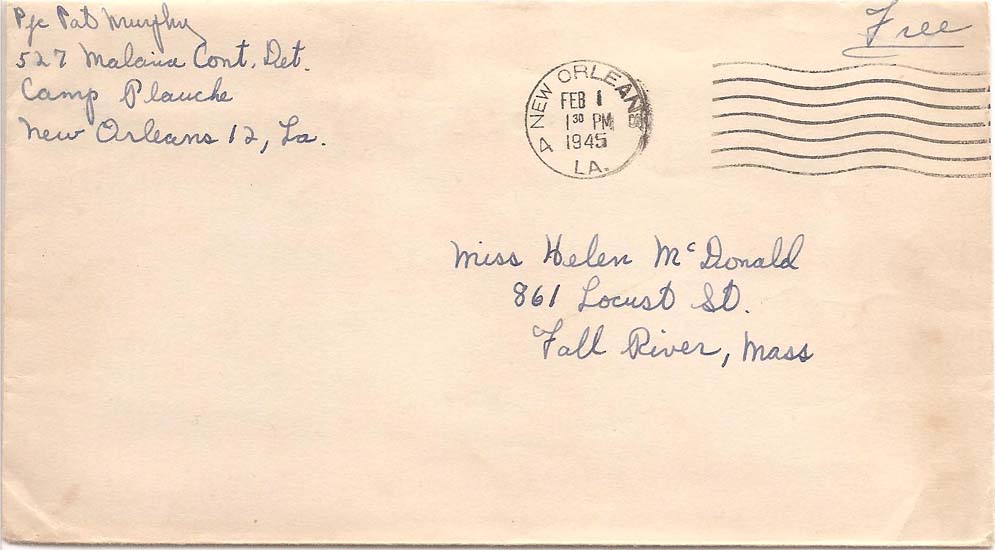 Camp Plauche, 527 MCU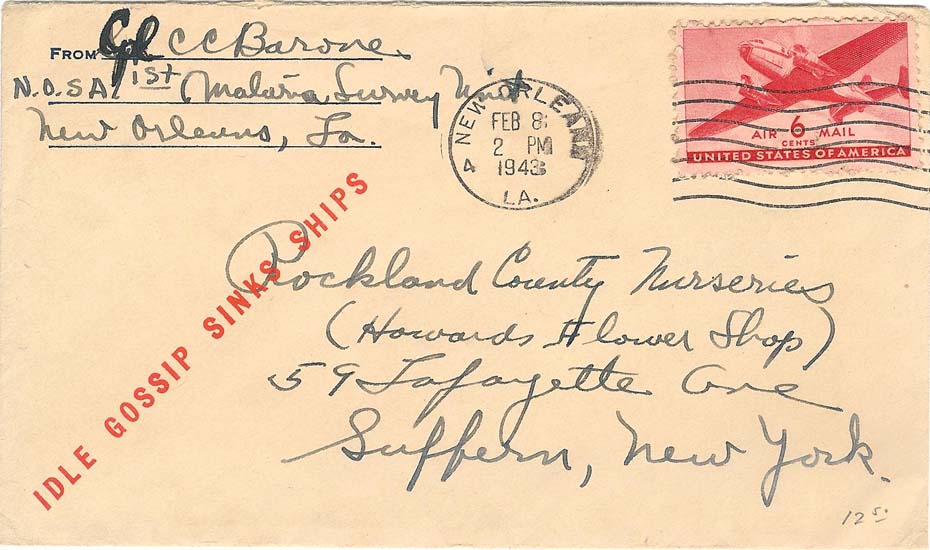 New Orleans 1st malaria survey unit
A change in the name of the malaria units occurred during the war, as seen in the following 3 covers from Captain Franclemont. On 26 Jul 1944, the 21st malaria survey unit was in the Solomon Islands. This is based on the history of APO 717, which operated from there from 20 Nov 1943 to 12 Mar 1945 (Forte and Helbock 1996 was used for all APO dates of operation).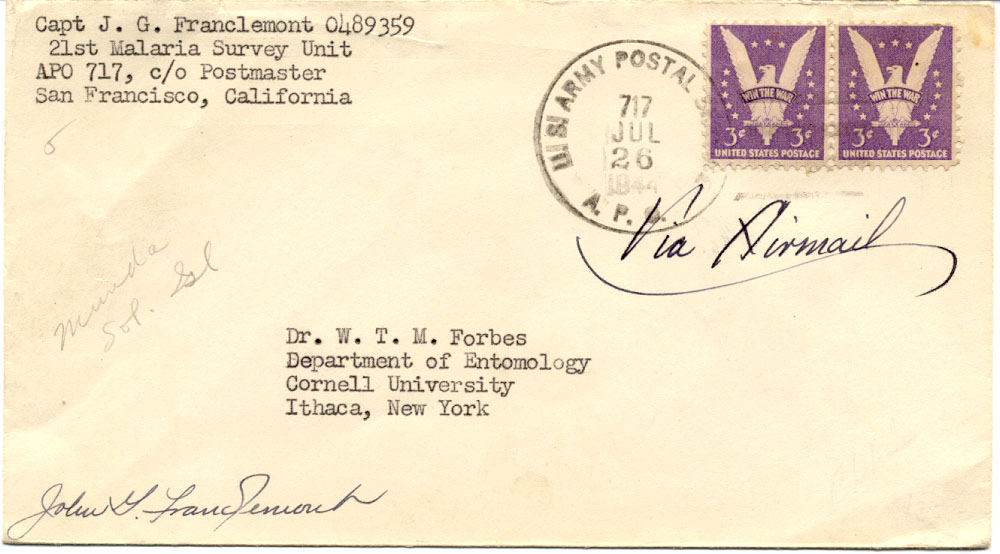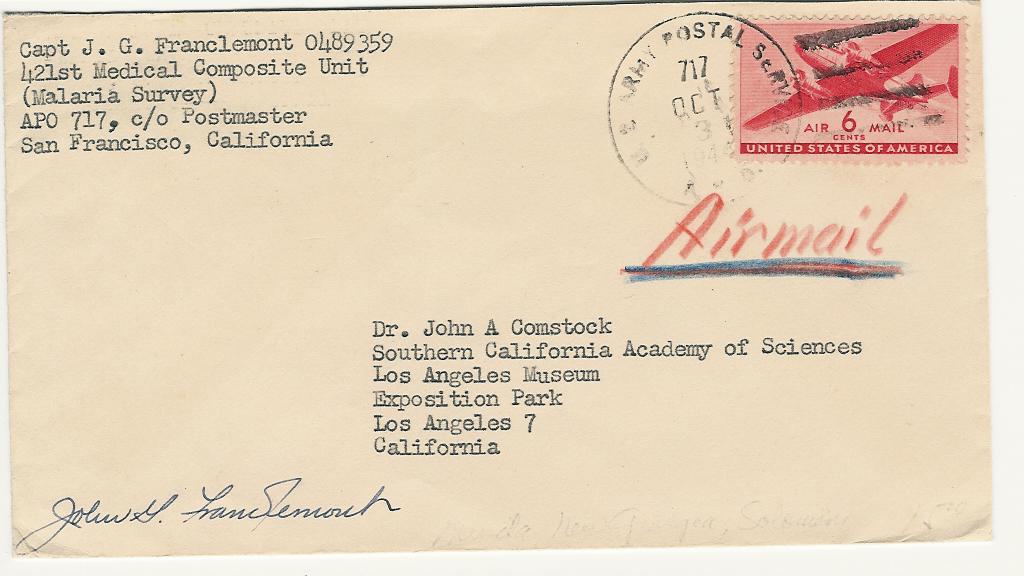 APO 717 Solomon Islands 21st Malaria Survey Unit
While still serving out of APO 717, Franclemont's unit became the 421st medical composite unit (cover date 03 Oct 1944) and kept that designation until at least 01 Mar 1945 (cover). This was a transitional unit name as the 421st malaria survey detachment became the final designation for the unit (cover date 29 Jun 1945), which was in the Philippines at the time that the cover was mailed (APO 70, operated there from 11 Jan 1945 to 31 May 1946). The addition of the "4" before the unit number came with the name change. I could not find any information regarding why the number was added to the unit designation. If any readers know why this number was added, please send me the reference.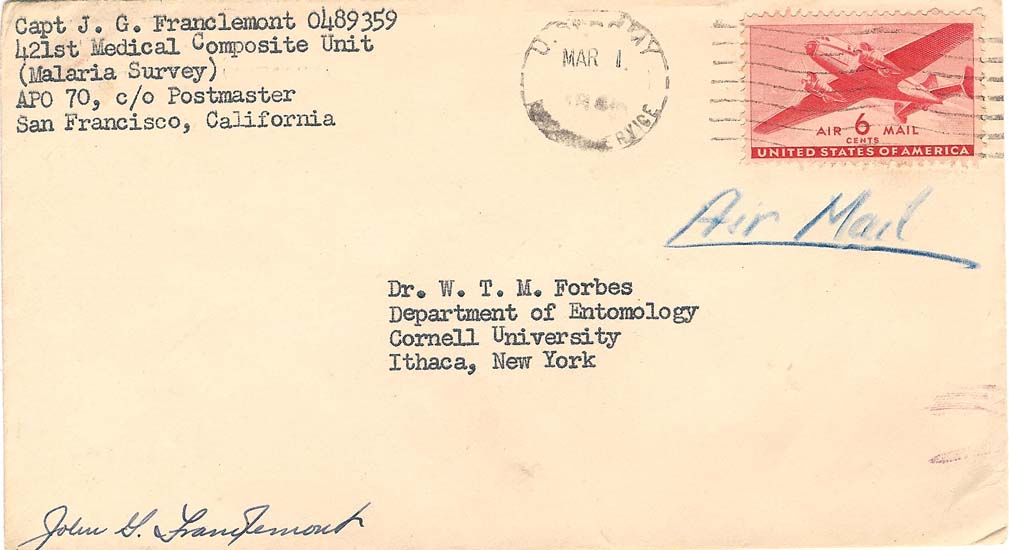 APO 70, 421 Med Com Unit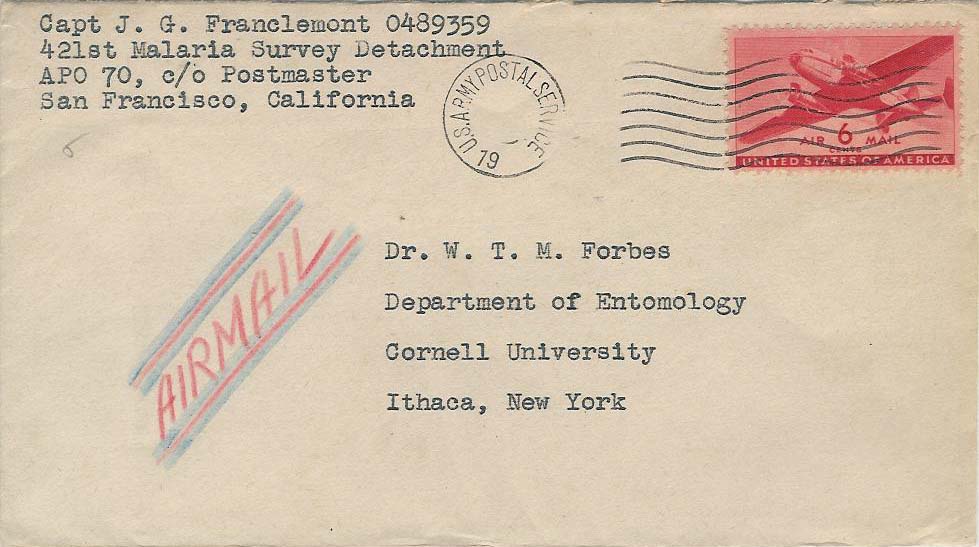 APO 70, 421 MSD
The reason for the name changes was because there was a double line of administration overseeing the malaria units, a line for supervisory commands, the Surgeon General, and another line for operational commands, the Services of Supply. A consolidation of the theater staffs and the Services of Supply occurred in 22 August 1944 (Coates 1963). The cover from Major H M Jesurun, the Base Malariologist from the Surgeon's Office shows one of the lines of commands (APO 503, operated from Papua New Guinea from Dec 1942 to Aug 1945). Because of the date given in Coates, the unclear year on the March Franclemont cover can be given as 1945.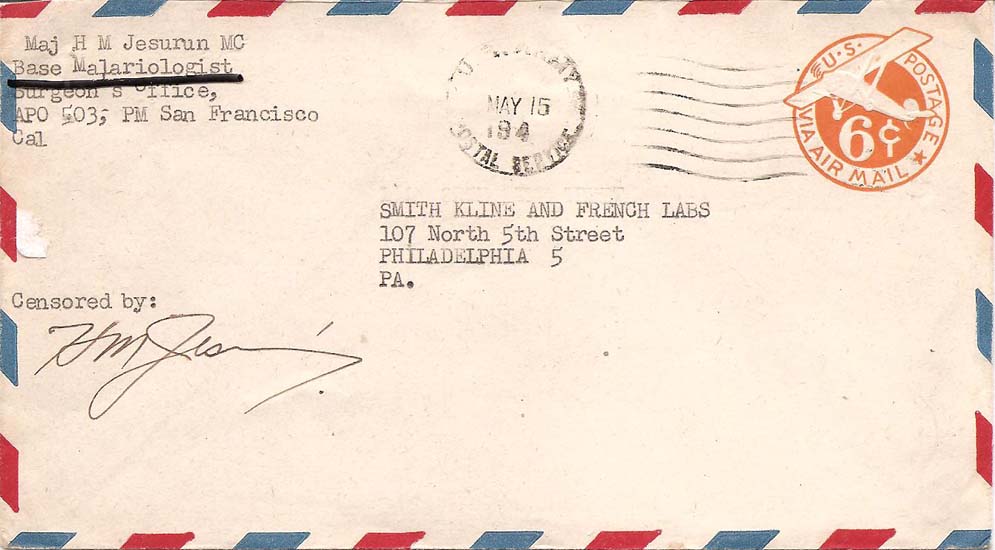 APO 503, Base Malariologist, 15 May 194
Two covers from Captain Basil Markos causes some confusion on the dating of the name change because he gives his unit as the 6th malaria survey unit with a postmark of 21 May 1945 (APO 74 operated from Clark Field, Luzon, Philippines from 25 Feb 1945 to 31 Dec 1964).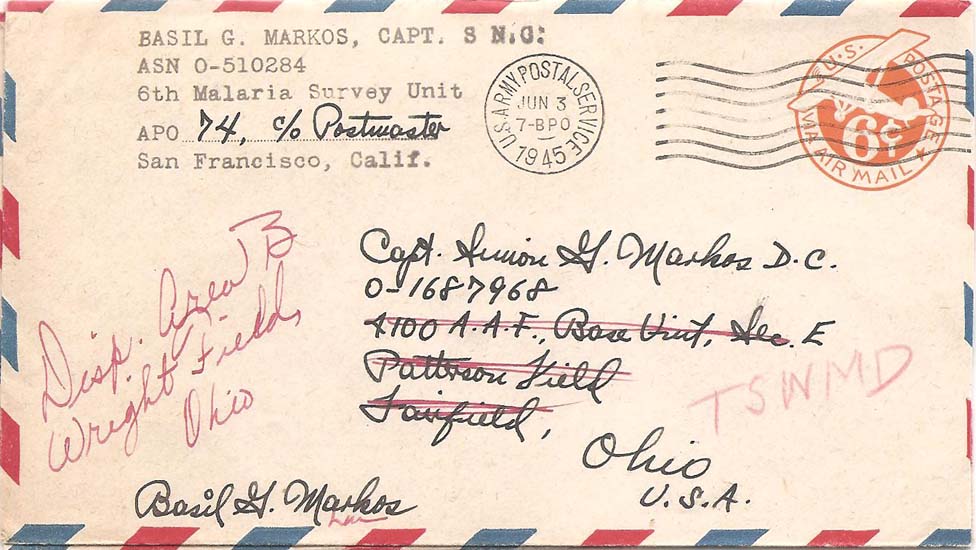 APO 74, 6th MSU (Markos), 3 June 45
APO 74, Clark Field, Philippines 6th MSD
All but one of the other covers from the 16 malaria control and survey detachment units in my collection have postmarks in 1945 and 1946. The exception is a cover from Headquarters, 2655th malaria control detachment (Prov.) (APO 400 operated from the North African Theater [APO 534], Italy, from 01 Nov 1943 to 17 Aug 1945). The "Prov." (Provisional ?) term suggests that in June 1944 the change in the naming of the malaria units was being considered.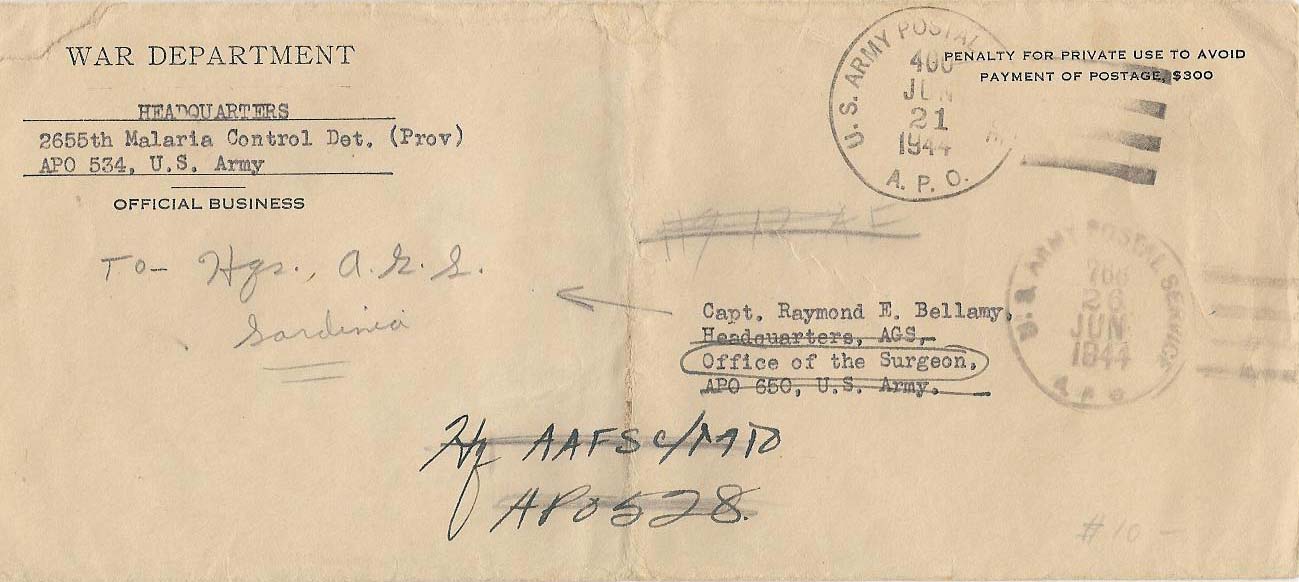 APO 534, 2655th MC detachment
In my collection, a number of covers postmarked after 1944 still contain the designation "unit," but this may just be the result of the soldiers forgetting to update their unit's official name. If any readers have covers associated with "medical composite unit," please send me a picture of the cover so that a more definitive timeframe for the name change can be established.
Although the exact dates for the changing of the names of malaria units is unclear, John Franclemont's postal record can be considered accurate. For someone who could meticulously categorize hundreds of thousands of insects, he could certainly acknowledge what his military unit was called in his correspondence.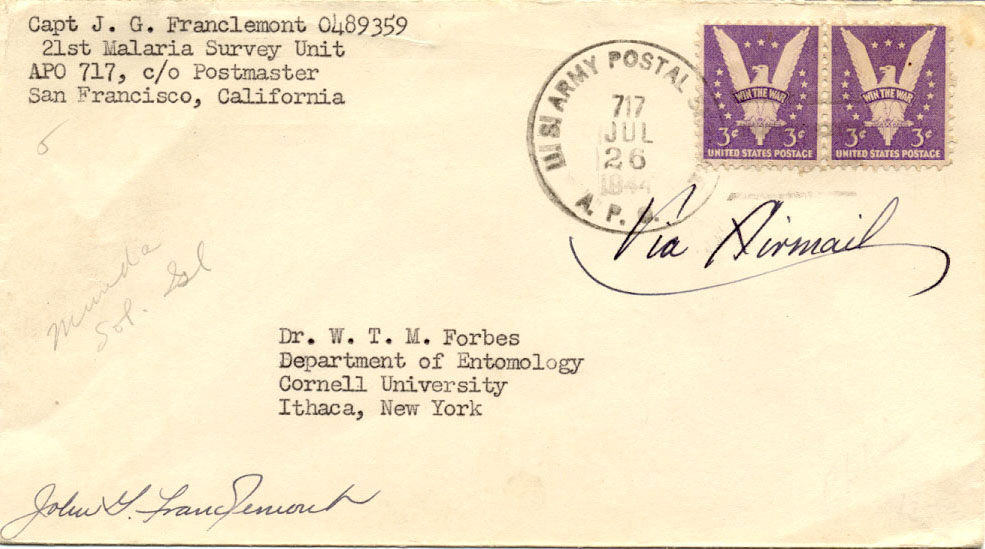 APO 717, Solomon Islands, 21st MSU
References
AF 380.2 (3-17-43), OB-I-SPOPU-M, Memorandum for Chief, Military Personnel, SGO. March 20, 1943.


Coates J B Jr, Colonel. Editor. Medical Department, United States Army. Preventive medicine in World War II. Volume VI. Communicable diseases. Malaria. Office of the Surgeon General. Department of the Army. US Government Printing Office. Washington, DC. 1963


Forte J and Helbock R W. A price guide to U.S. A.P.O. cancels of the second world war. La Costa Publications. Lake Oswego (OR). 1996.


Hudnall J R, Medical Corps, Assistant. Memorandum for the Adjutant General. April 06, 1943.


Mosley K T, Capt, Medical Corps. Memorandum for - Chief, Military Personnel, S.G.O. dated April 2, 1943 (from National Archives).