Passing Of The Touch - Ron Ward Sells His Collection Intact
(Published: February, 2009, Volume 9, Number 1, Issue #27)
(
Table Of Contents
)

(Author: Larry Fillion)
Who is Ronald Ward?
Ron attended Cornell University, the London School of Hygiene and Tropical Medicine and the University of Chicago. From 1958 till June, 1984, he was a staff member of the Walter Reed Army Institute of Research, Washington, D.C. where he was responsible for research on malaria and other insect-transmitted diseases. He wrote approximately 100 papers on malaria, mosquitoes and African trypanosomiasis and co-authored a book on the mosquitoes of North America. Ron was an honorary research associate of the Smithsonian Institution and also served as the editor of "Journal of the American Mosquito Control Association". He served as Editor of the Journal for 12 years.
Cover sent to Ron Ward at Walter Reed Army Institute of Research hand-stamp used on
official mail from the Health Service Office in Holland (12/20/1962).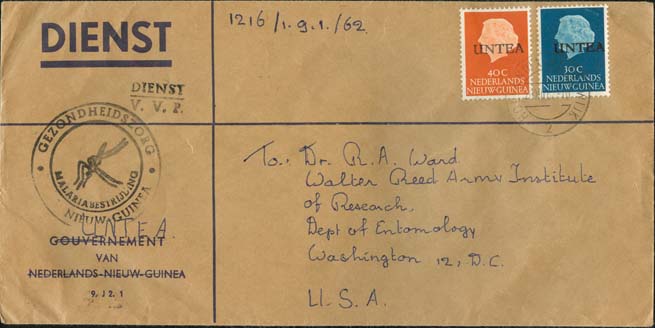 In late 1979, the Malaria Philatelists International (MPI) was started. By the second periodical (The Miasma), Ron was already contributing short articles. A year later, Ron was writing full length articles in the Miasma. By 1981, Ron Ward was the President of the MPI. Over the years, Ron has amassed quite a collection of malaria items and knowledge. In 1986, the last Miasma was published but Ron continued to collect malaria stamps and covers.
In 2000, I bought the domain name
www.malariastamps.com
and started scanning my collection and putting the images online. A few years later, Ron and I were sending emails back and forth and I was learning a lot from Ron. Ron even sent me his copies of the original Miasmas which I scanned. In 2007, I re-started the MPI. My collection had been growing and growing and was getting pretty large and then ...
In the Summer of 2008, Ron decided to sell his entire anti-malaria stamp collection intact. I had been to Ron's house sometime around 2003 and he showed me much of his collection. I remember seeing some amazing covers and so when Ron came up with a price, I accepted it (once I talked it over with my wife). Ron started sending large boxes full of binders. By late September, the last of the large boxes chock full of binders arrived at my house and I started to look at the thousands and thousands of covers. There were so many amazing covers and with so many new items being added to my collection, I had to reorganize all of my binders to make room for the new additions. This also forced me to go through my collection and really organize it. I am still doing this. Although I am beyond excited to add hundreds and hundreds of new covers to my collection, I am a little saddened that Ron is not collecting malaria stamps anymore.
Here is a group of Dill FDCs from Ron's collection that I did not previously have. There were other Dill FDCs in Ron's collection which I already had. This should give you an idea of the breadth of his collection (as usual, click on the images to get a larger view):