New Find - United Nations Scott 102-103 FDC Cancellation
(Published: September, 2014, Volume 14, Number 2, Issue #36)
(
Table Of Contents
)

(Author: Larry Fillion)
Actually, it is not a "new" find but a "knowledgeable" find. I have been a member of the United Nations Philatelists Incorporated (UNPI) stamp club for at least ten years. I have been the webmaster of the
UNPI website
for most of that time and now I am the President of the club (the web site is very informative and all of 'The Journals' are online that were issued before 2010). There is a United Nations specialized catalog written by Arleigh Gaines; the catalog has thousands of pages and is housed in three 3 inch binders. The cover is pictured below.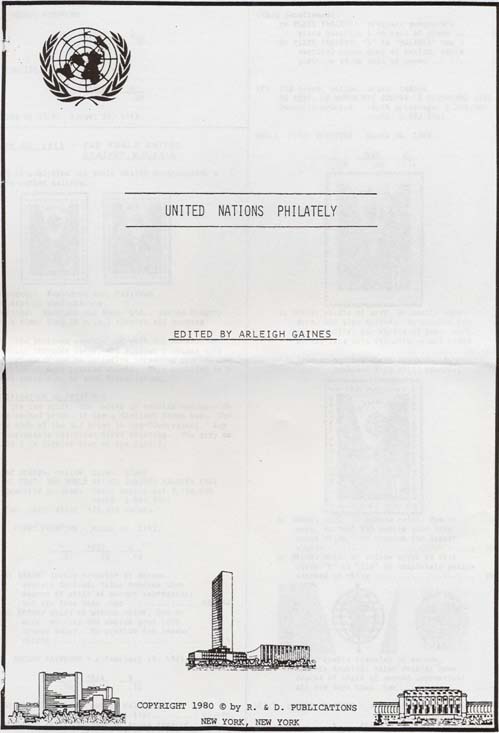 I had been looking to purchase this catalog for a very long time but the price has been around $500.00 as it is out of print and Arleigh Gaines is at the "stamp show in the sky" so the catalog is not being updated. A month ago, I finally saw this huge catalog on eBay for $100.00 and put in a bid and I purchased it. After a few weeks of receiving it, I finally had time to look up the malaria stamps and cancellations. In the section "New York First Day Cancels", I looked up that a specific cancel for the 1962 malaria set and saw something very interesting. I saw the hand cancel pictured right below.
Gaines Hand Cancel H17

But then I saw that there are two different machine cancellations that were used. Gaines writes that the cancellations are identified by the dater and the slogan. The two cancellations below are listed as M5A and M5C. There is a note that specifies that M5C was only used at the UNPO (United Nations Post Office). This would mean that the cancellation was not used at the stamp show where almost all of the FDCs were cancelled. Gaines mentions that the M5B cancellation was not used with UN Scott 102-103. In the two cancellations below, make note of the letters/font in the dater - they are quite easy to identify but very hard to find. I have over a hundred United Nations Scott 102-103 FDCs in my collection and also have forty duplicate FDCs. Of all of these FDCs, only six have the M5C cancellation. Two of the FDCs were produced by Glory and the other FDC was produced by the United Nations Post Office itself. The other three at the bottom are 'commercial' usages of the FDCs. These FDCs were shipments of stamps being sent from the United Nations Postal Administration (UNPA) so if you have similar FDCs, please check them.
Gaines Machine Cancel M5A

Gaines Machine Cancel M5C

Scott 102 Glory FDC With Gaines Hand Cancel M5C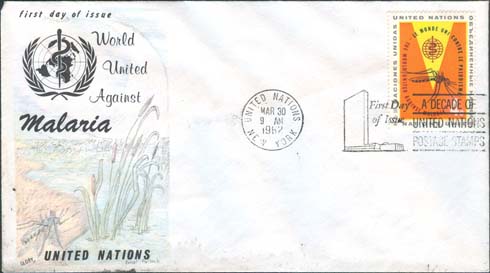 Scott 102-103 Glory FDC With Gaines Hand Cancel M5C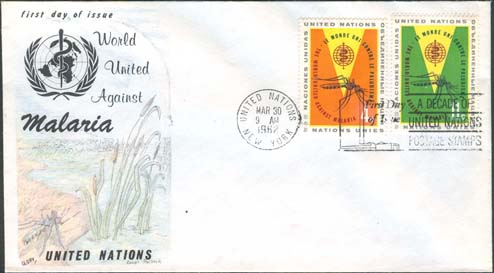 Scott 102-103 UNPA FDC With Gaines Hand Cancel M5C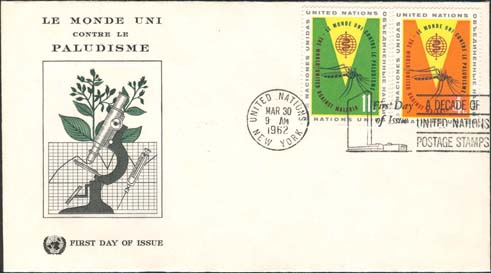 Scott 102-103 UNPA Commercial FDC With Gaines Hand Cancel M5C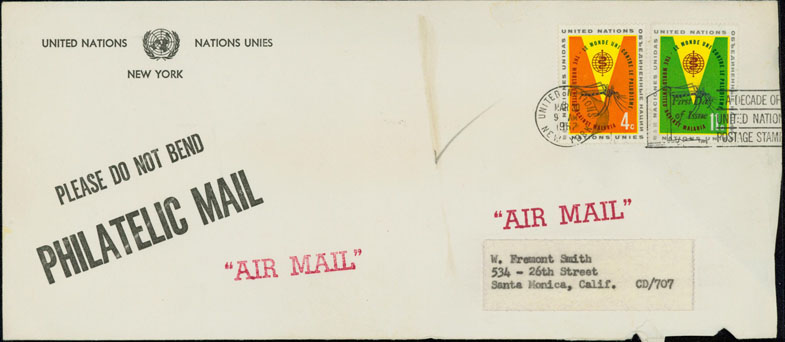 Scott 102-103 UNPA Commercial FDC With Gaines Hand Cancel M5C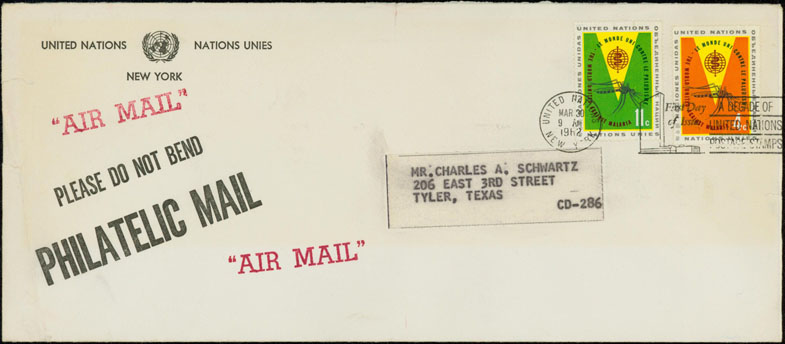 Scott 102-103 UNPA Commercial FDC With Gaines Hand Cancel M5C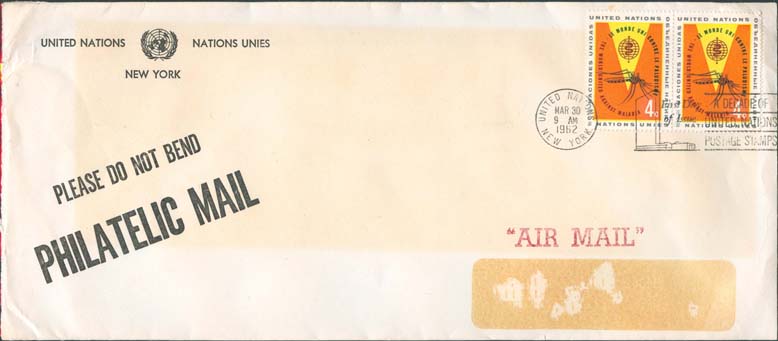 *If any reader has other FDCs with this Gaines M5C cancellation, please contact me at
malariastamps@yahoo.com