United Nations Non Malaria FDCs With Malaria Cachets
(Published: January, 2016, Volume 16, Number 1, Issue #40)
(
Table Of Contents
)

(Author: Larry Fillion)
I have been a member of the
United Nations Philatelists Inc.
(UNPI) for over a decade. After being the Webmaster for 5 years, I became a Director and then the President of the organization. I have attended many annual UNPI meetings at APS stamp shows over the years and I have met many new philatelic friends through this organization. I have become trading buddies with over a half dozen of the members and have received some great UN malaria items.. A few of the UN collectors have large FDC collections and mentioned that there were cachets with malaria themese used for non malaria themed stamp issues. Once I knew what the items were, I went on the quest to find and purchase my own copies. Some of the example below were traded with me for other UN items.
Below are malaria cachets which were used for United Nations stamps which were not anti-malaria stamps but the stamps certainly do have a malaria connection. World Health Organization, World Health Day and UNICEF certainly have connections to the anti-malaria theme.
| | |
| --- | --- |
| INDIA LAND OF MALARIA | INDIA LAND OF MALARIA |
| ANTI-MALARIAL CAMPAIGN IN ITALY DUSTING FLOODED AREAS WITH DDT | FIGHTING MALARIA IN THE PACIFIC |
| THE GOVERNMENT OF IRAN WITH AID FROM (UNICEF) AND (WHO) IS CONDUCTING A NATION-WIDE FIVE-YEAR CAMPAIGN TO ERADICATE MALARIA FROM THE COUNTRY | D'ERADICATION DE LA MALARIA |
Scott 43 Pent Arts FDC - Blue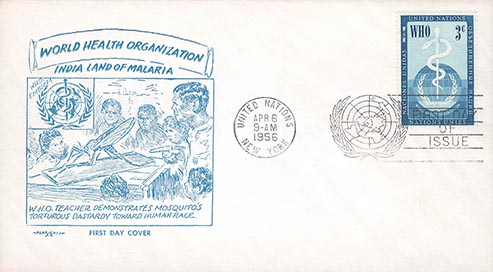 Scott 44 Pent Arts FDC - Orange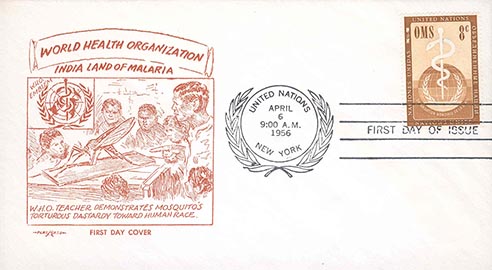 Scott 43 Aristocrats Pacific FDC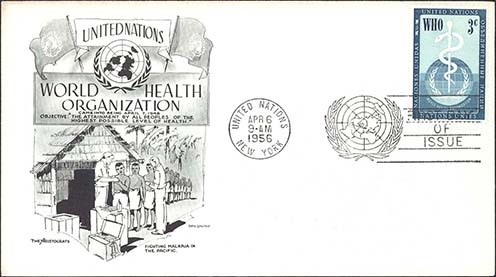 Scott 44 Aristocrats Pacific FDC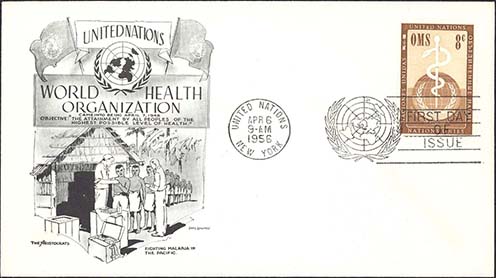 Scott 43,44 Aristocrats Pacific FDC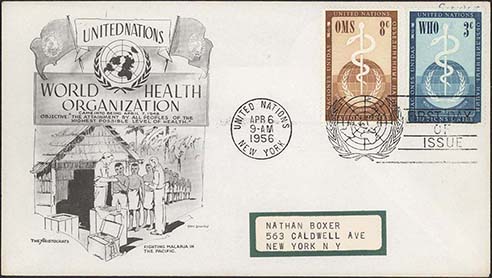 Scott 43 Blcok of 4 Aristocrats Pacific FDC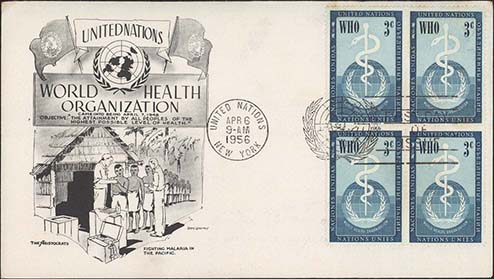 Scott 43 Aristocrats Italy FDC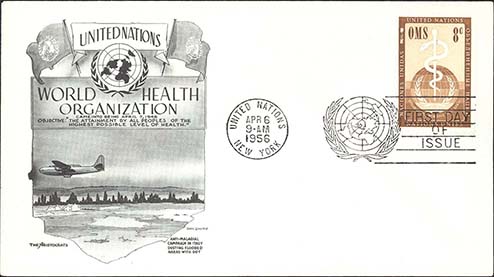 Scott 44 Aristocrats Italy FDC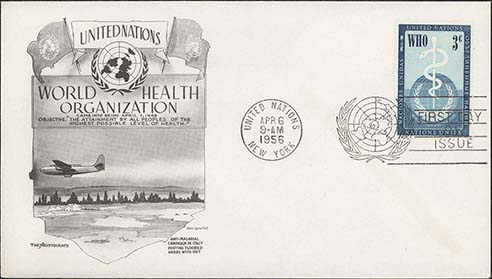 Scott 97,98,99 Machine Cancel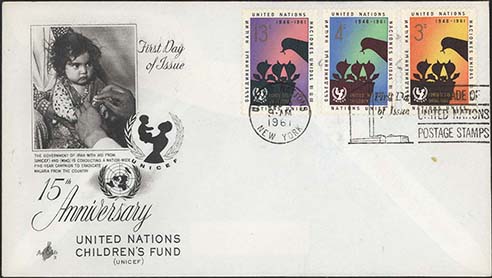 Scott 97,98,99 Hand Cancel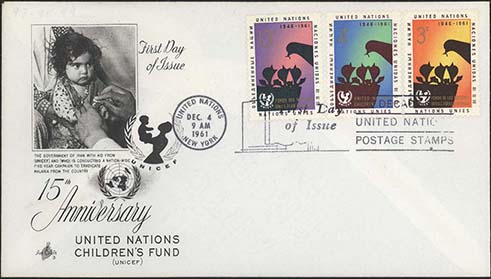 Scott 97,98,99 MI Singles Hand Cancel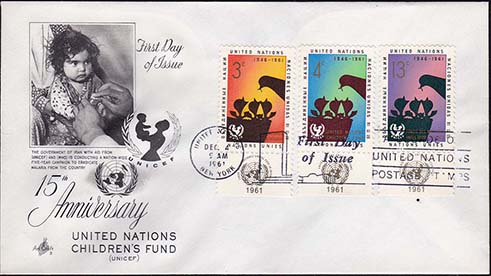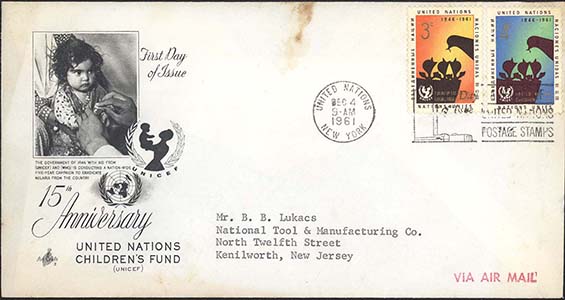 Scott 97 Singles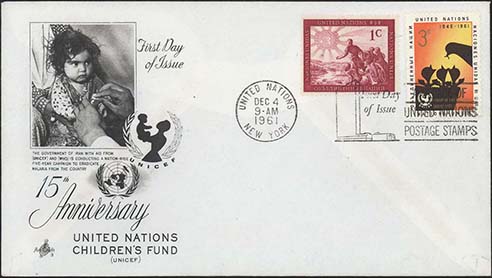 Scott 97 Two Singles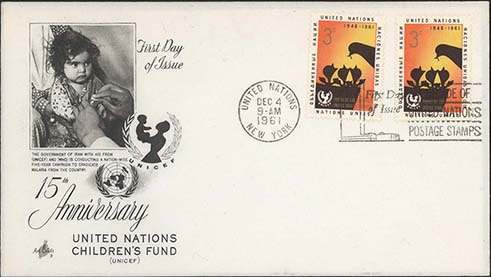 Scott 97 Block of Four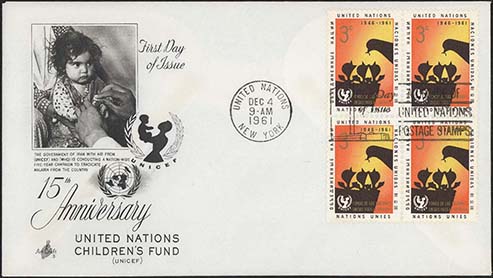 Scott 97 Lower Left MI Block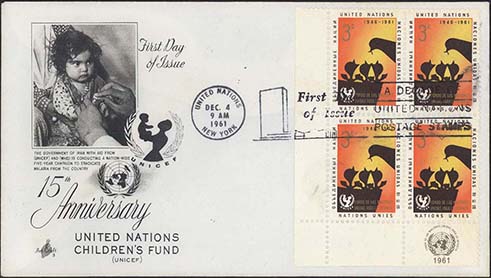 Scott 97 Lower Right MI Block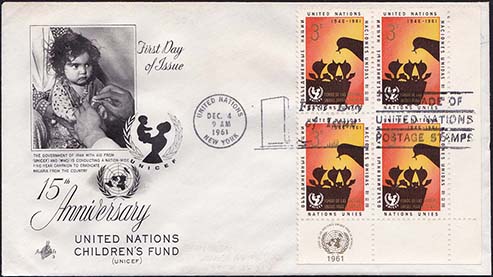 Scott 97 Upper Left MI Block

Scott 97 Upper Right MI Block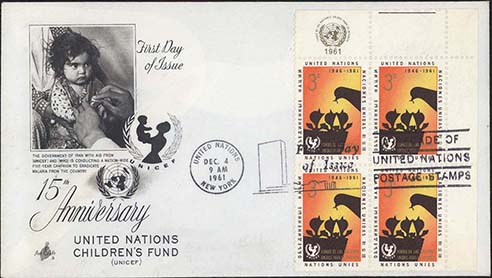 Scott 99 Upper Right MI Block - Hand Cancel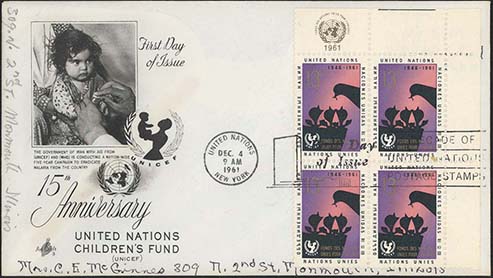 Scott 228 Hudson FDC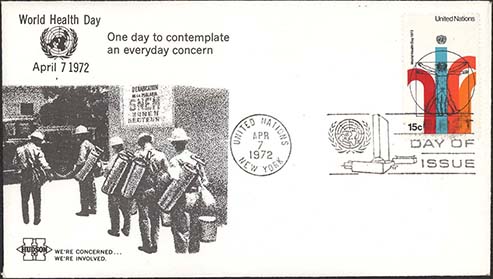 (There are a few of the FDCs above in the
MPI Auction #8
)
*If any reader has other FDCs for non malaria issues with cachets mentioning malaria, please contact me at
malariastamps@yahoo.com