United Nations 'GRO Export License Not Required' Auxiliary Marking
(Published: January, 2016, Volume 16, Number 1, Issue #40)
(
Table Of Contents
)

(Author: Larry Fillion)
A few months ago, I purchased the cover below (with the following information):
United Nations New York "Service Cover" dated February 27, 1963.
First Class Surface Rates - Special Postal Treaties With Canada
Jan 7, 1963 till Jan 6, 1968 - 5¢- per ounce (3 ounces = 15¢)
Registry Mail Service - Special Postal Treaties With Canada
Aug 15, 1961 - Mar 25, 1966 - 75¢ for $10 <= $100 indemnity
Total Postage = 90¢
United Nations Scott 102-103 Feb 27, 1963 Registered Cover to Canada - Front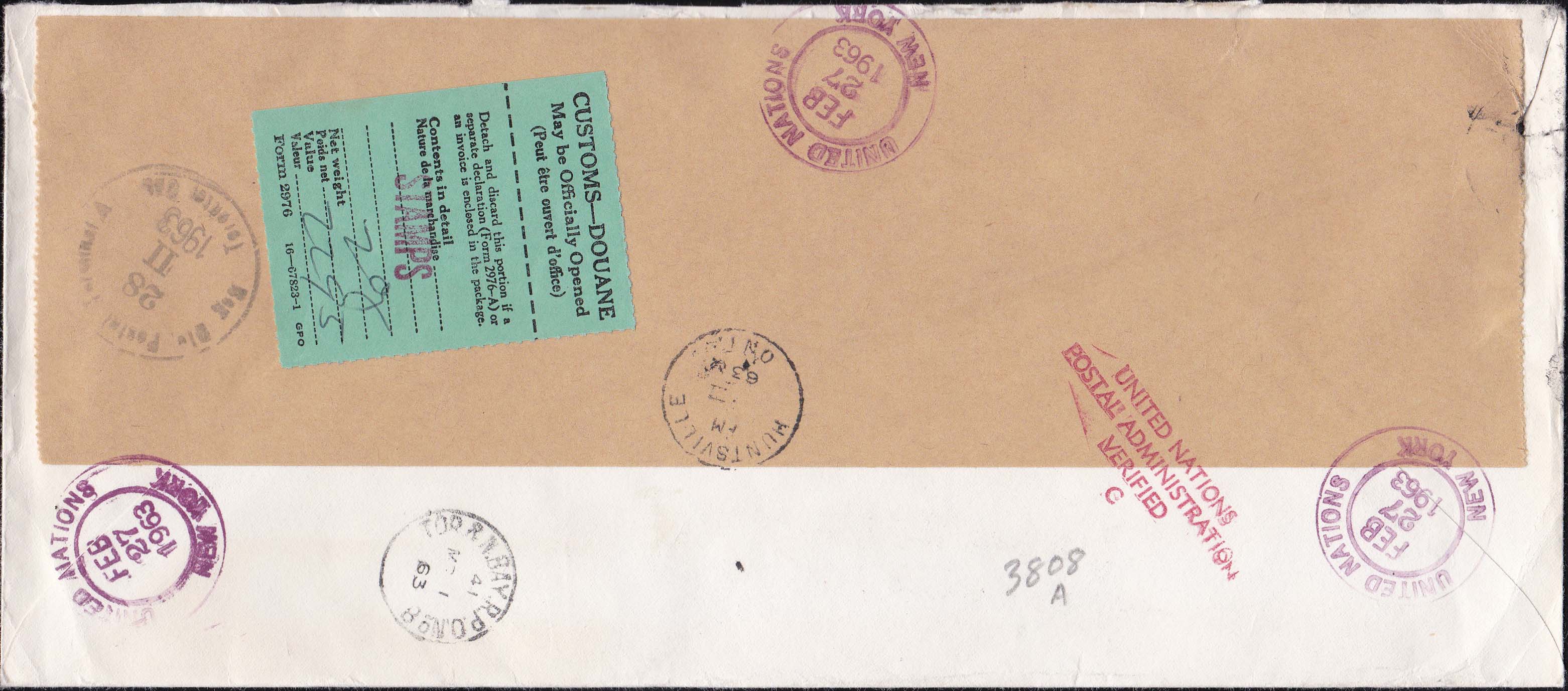 United Nations Scott 102-103 Feb 27, 1963 Registered Cover to Canada - Back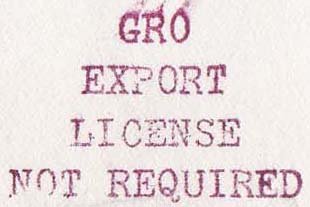 GRO Export License Not Required (Magnified)
I searched the internet for information on this "GRO License" and finally found the document
The Code of Federal Regulations of the United States of America
online. The document had a lot of information dealing with many "General Licenses" that U.S. companies/entities needed to comply with. The "rules" deal with what can be shipped to which countries and which required license. Below are snippets from the document and the pages that the information was found on.
(page 135) Part 371 - General Licenses [This section lists the subsections of the chapter and has about 20 different General Licenses including GO, GRO, GIT, GLV, GLD and many others.]
(page 135) (section 371.1) Definition. A "general license" is a license established by the Department of Commerce for which no application is required and for which no document is granted or issued, available for use by all persons, permitting exportation within the provisions thereof as prescribed in the Export Regulations.
(page 139) (section 371.8) General License GRO; shipments of non-Positive List commodities. (a) Scope of license. (1) A general license designated GRO is hereby established, authorizing the exportation to all destinations of all commodities not included on the Positive List of commodities (section 399.1), subject to the other provisions set forth in this section ...
(page 136) (section 371.3) General License Country Groups [destinations] (a) Grouping of countries. Two general license country groups are hereby designated: Group R and Group O. (Since exportation to United States territories, dependencies, and possessions, the Canal Zone, Trust Territory of the Pacific Islands, and Canada do not require export licenses from the Department of Commerce these destinations are not included in the country groups.) [Country Group O (most of North America and South America) and Country Group R which includes of all countries and other destinations not included in Country Group O, except Canada]
(page 340) (section 399.1) Appendix A - Positive List of Commodities [This section has a positive list the commodities such as edible animal products, tire casings, inner tubes, engines, plastics, and goes on for dozens of pages.]
It appears the United Nations Postal Administration (UNPA) did not need a GRO Export License to send philatelic items through the mail. I will take a guess and state that the second auxiliary marking "G. DEST EXPORT LIC. NOT REQ." would stand for "General Destination Export License Not Required".
Below is another cover which I have purchased for my general United Nations collection with a different "Export License Not Required" auxiliary marking on it. This cover was sent 5 years after the cover above with the United Nations malaria stamps on it above.
United Nations New York "Service Cover" dated April 14, 1968.
First Class Surface Rates - Special Postal Treaties With Canada
Jan 7, 1968 till May 15, 1970 - 6¢- per ounce (1 ounce = 6¢)
Registry Mail Service - Special Postal Treaties With Canada
Mar 26, 1966 - Jul 13, 1969 - 75¢ for <= $100 indemnity
Total Postage = 81¢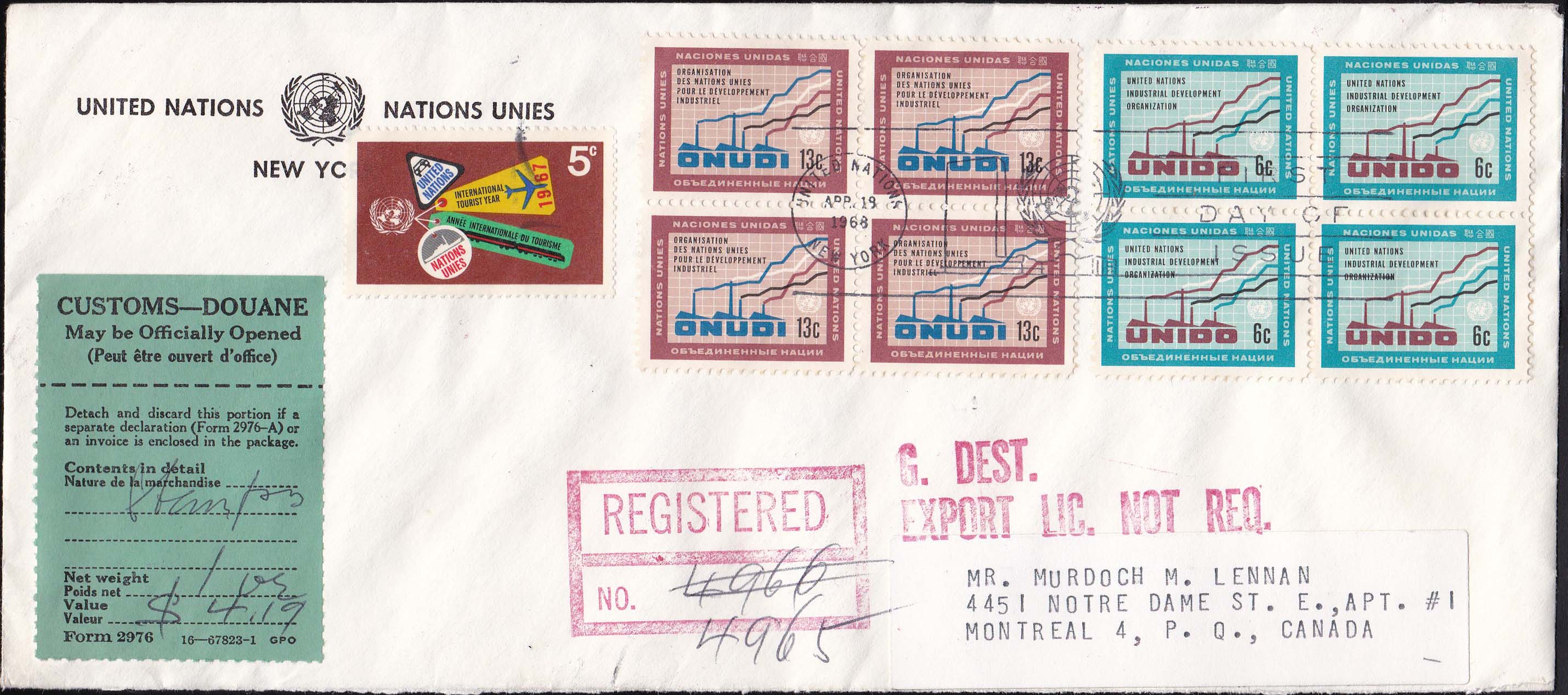 United Nations 1968 Registered Cover to Canada - Front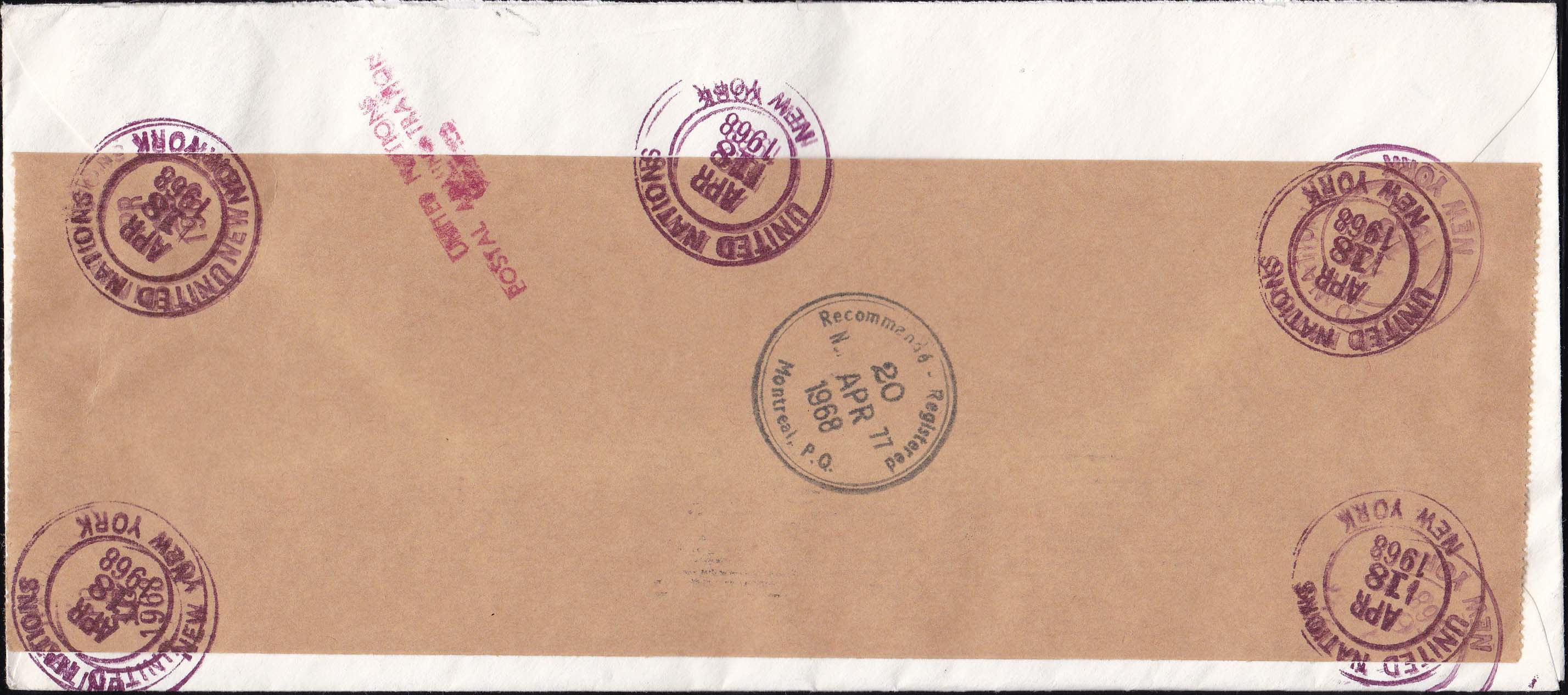 United Nations 1968 Registered Cover to Canada - Back

G. DEST. EXPORT LIC. NOT REQ. (Magnified)
Reference:
The Code of Federal Regulations of the United States of America
(U.S. Government Printing Office, 1964)
*If any reader has other United Nations covers (especially with the Anti-malaria issues (Scott 102-103)) with these auxiliary markings, please contact me at
malariastamps@yahoo.com