UNPA Covers Sent with Manifold Receipts Sent To A. Terins
(Published: November, 2010, Volume 10, Number 2, Issue #31)
(
Table Of Contents
)

(Author: Larry Fillion)
There are two postal entities at the United Nations in NY - the United Nations Postal Administration (UNPA) and the United Nations Post Office (UNPO).
The UNPA is the philatelic operation which produces, sells and accepts mail to be dispatched from the United Nations. It is staffed by members of the UN Secretariat. It records the number of pieces received and forwards them to the UNPO.
The UNPO accepts the mail from the UNPA and puts it in the mail stream. The United Nations Post Office is a sub-station of the US Post Office (USPO) Grand Central Station. It is staffed by USPO employees. This PO is located in the basement of the UN Secretariat Building.
For security reasons, access to the UNPO was denied to non United Nations staff. Registered/Certified/Insured mail could be submitted to the UNPA which would issue a receipt. After a while, the UNPA staffers became tired of issuing a receipt for each individual piece and required frequent mailers to submit a manifold form with the items listed. Along with this manifold form, the mailer was required to submit a stamped self addressed envelope in which the manifold receipt could be returned.
Most of the return envelopes were rubber stamped with the UNPA return address and the they were mailed to the sender with the manifold receipt inside. Below is a registered mail manifold page used in 1958. The Post Office Registered mail plug cancel is in the upper right corner, The sender was assigned a series of exclusive numbers. In this case, the customer A. Terins was assigned numbers 3445400 - 3445499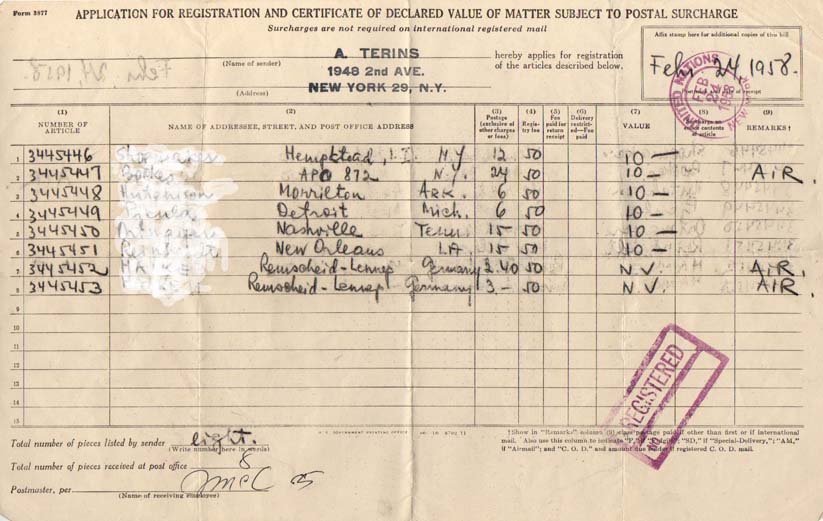 Below are covers from September 2, 1962 to August 2, 1963 which were sent from the UNPA to A. Terins which contained these receipts (which were not included in the envelopes when I bought them from Terins) which happen to have Scott 102 (1st and 2nd Printings) on the envelopes. The first six covers have a single Scot 102 on them which paid the first class surface letter rate which was in effect August 1st, 1958 till January 6th, 1963. The next ten covers paid the first class surface letter rate which was in effect January 7th, 1963 till January 6th, 1968.
Scott 102 1st print - Sept 2, 1962 Machine slogan cancel Collective Measures for Peace UN Postal Administration rubber stamped return address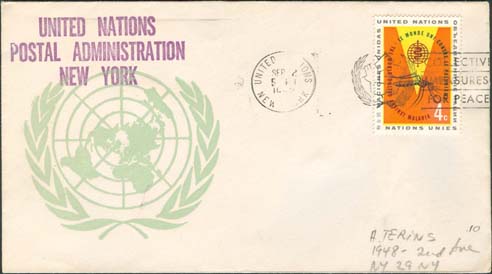 Scott 102 1st print - Sept 4, 1962 Machine slogan cancel Collective Measures for Peace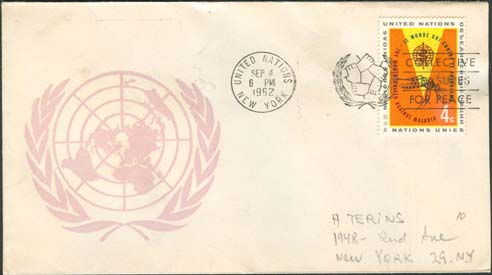 Scott 102 1st print - Sept 25, 1962 Machine slogan cancel Collective Measures for Peace UN Postal Administration rubber stamped return address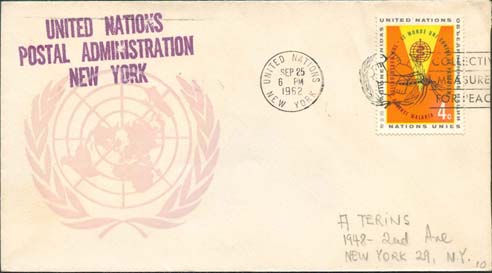 Scott 102 1st print - Sept 27, 1962 Machine slogan cancel Collective Measures for Peace UN Postal Administration rubber stamped return address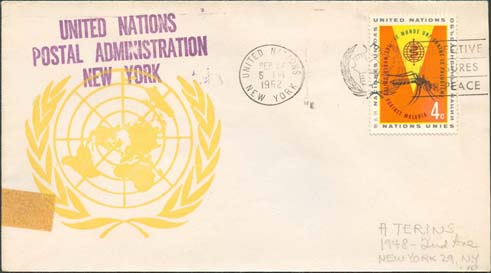 Scott 102 1st print - Oct 3, 1962 Machine slogan cancel Collective Measures for Peace UN Postal Administration rubber stamped return address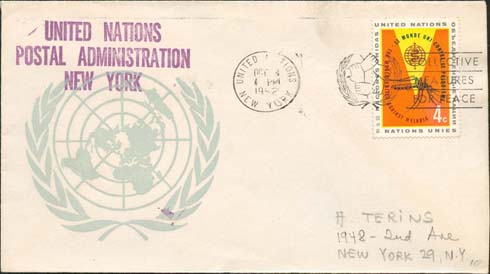 Scott 102 2nd print - Nov 28, 1962 Machine slogan cancel Collective Measures for Peace UN Postal Administration rubber stamped return address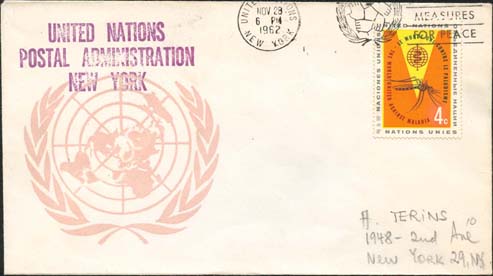 Scott 102 2nd print - March 3, 1963 Machine slogan cancel Collective Measures for Peace UN Postal Administration rubber stamped return address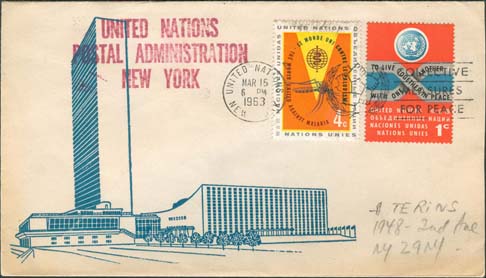 Scott 102 2nd print - March 13, 1963 Machine slogan Collective measures for peace UN Postal Administration rubber stamped return address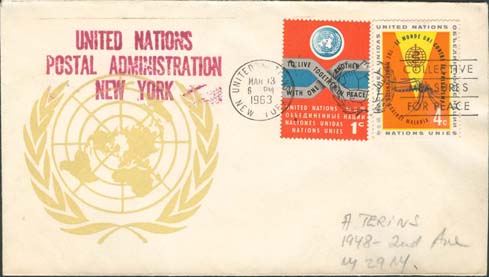 Scott 102 2nd print - March 18 or 19, 1963 Machine slogan Collective Measures for Peace UN Postal Administration rubber stamped return address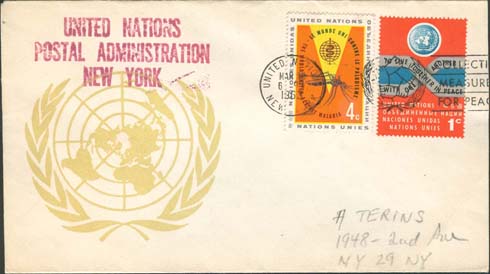 Scott 102 2nd print - March, 26, 1963 With a roller cancel - not common on small envelopes UN Postal Administration rubber stamped return address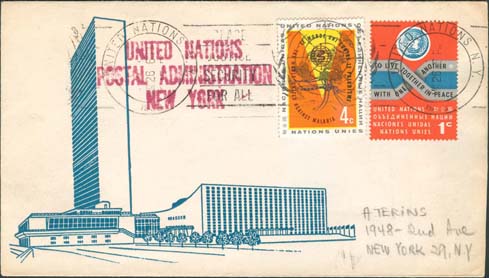 Scott 102 1st print - April 4, 1963 Machine slogan cancel Collective Measures for Peace UN Postal Administration rubber stamped return address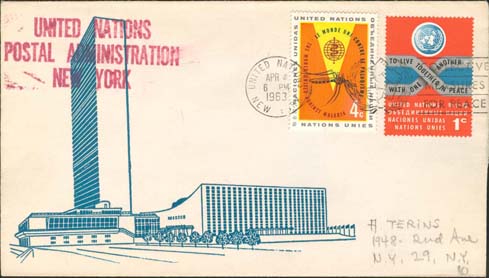 Scott 102 2nd print - April ?, 1963 Machine slogan cancel Collective Measures for Peace UN Postal Administration rubber stamped return address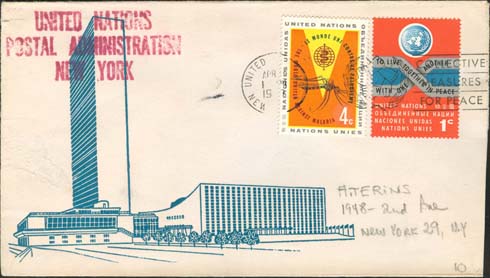 Scott 102 1st print - May 22, 1963 With a roller cancel - not common on small envelopes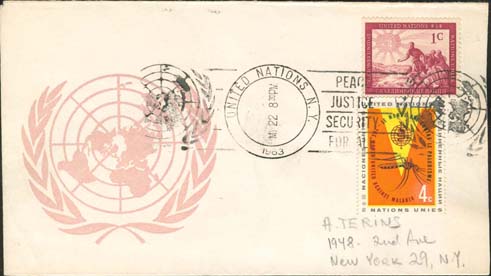 Scott 102 1st print - May 29, 1963 Machine slogan cancel Honoring Int. Relief Activities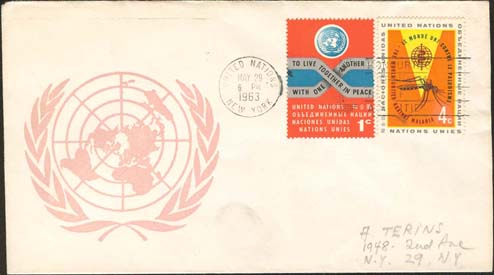 Scott 102 1st print- June 14, 1963 Machine slogan cancel - Honoring Int. Relief Activities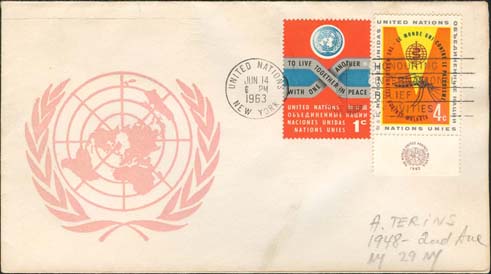 Scott 102 1st print - August 2, 1963 Machine slogan cancel Honoring Relief UN Postal Administration rubber stamped return address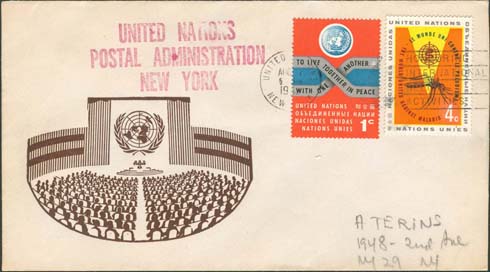 *If any reader has other covers similar to these from the UNPA with Scott 102, please contact me at
malariastamps@yahoo.com