New First Day Cancellations For United States Scott 1194
(Published: May, 2015, Volume 15, Number 2, Issue #38)
(
Table Of Contents
)

(Author: Larry Fillion)
I picked up a large United Nations and related cover collection of 300+ covers and within the collection were the first two covers below. Many of the covers were addressed to Richard Redman. For the two covers below, it looks like Richard went to the INTERPEX stamp show on March 30, 1962 in New York City and then drove through New Jersey late in the day. The large collection also had other anti-malaria FDCs serviced at INTERPEX with Richard address on them.
The United States anti-malaria stamp (Scott 1194) could only be sold at the stamp show in Washington D.C. and INTERPEX in New York City. Because the stamps were sold at INTERPEX, it was alright for Richard Redman to use them on covers.
The first FDC was cancelled at Newark, New Jersey at 5:00 PM. The second FDC with a roller cancellation was serviced at 8:00 PM.
U.S. Scott 1194 FDC with New Jersey Cancellation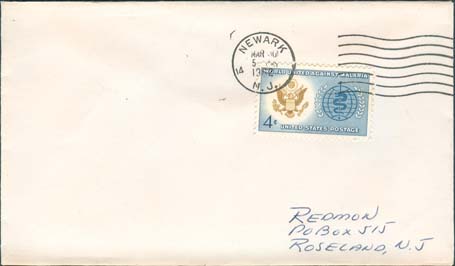 U.S. Scott 1194 FDC with New Jersey Cancellation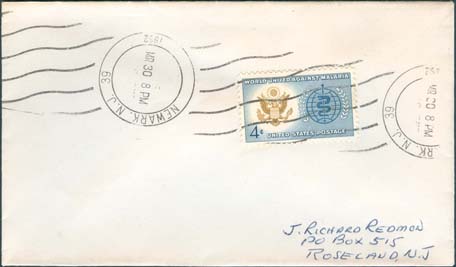 The U.S. Scott 1194 ArtCraft "Kennedy" FDC below is very common but this the only recorded ArtCraft "Kennedy" FDC with a block of six on it. In fact, there are only 2 Scott 1194 FDCs that have a block of six on them. The second FDC is right below it and has an Add-on cachet.
For both of these FDCs, the first day hand cancellation did not cover all six stamps and the USPS rule is a FDC is only supposed to have one of first day cancellation on the FDC. I have been in contact with many FDC collector experts and although, there is the USPS rule, there are many examples of where more than one strike was applied. But, for these two FDCs, they did not apply more than one.
On the ArtCraft "Kennedy" FDC, the second cancellation device looks like an ad-hoc device, perhaps fashioned by cutting away the parts of some prior issue's FDOI rubber hand cancel.
U.S. Scott 1194 ArtCraft FDC with extra cancellation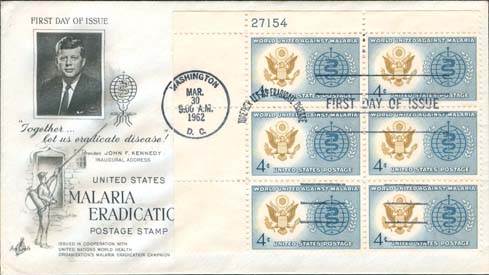 Add-on cachet BUT the First Day cancel did not cover all 6 stamps so they used just a "dater" or ""bullseye" cancellation device to cancel the bottom two stamps.
U.S. Scott 1194 FDC with Add-on cachet and extra cancellation

*If any reader has any other interesting U.S. Scott 1194 FDCs in regrads to cancellations, please contact me at
malariastamps@yahoo.com