Using Beecher And Wawrukiewicz For U.S. Scott 1194 Commercial Covers
(Published: November, 2010, Volume 10, Number 2, Issue #31)
(
Table Of Contents
)

(Author: Larry Fillion)
Over the last fifteen years, I have purchased about 30 commercial covers with the United States 4¢ World United Against Malaria Campaign stamp which was issued March 30th, 1962. I have used some of these in philatelic exhibits and therefore needed to know more about the covers in regards to rates. In order to find out more, the following book "U.S. Domestic Postal Rates, 1872-1999 - Revised Second Edition" written by Henry W. Beecher and Anthony S. Wawrukiewicz (I will refer to the book as 'Beecher and Wawrukiewicz' going forward) was consulted. The image of the cover of the book is below and after that is a selection of domestic covers. As usual, all of the covers can be clicked to see large closeups.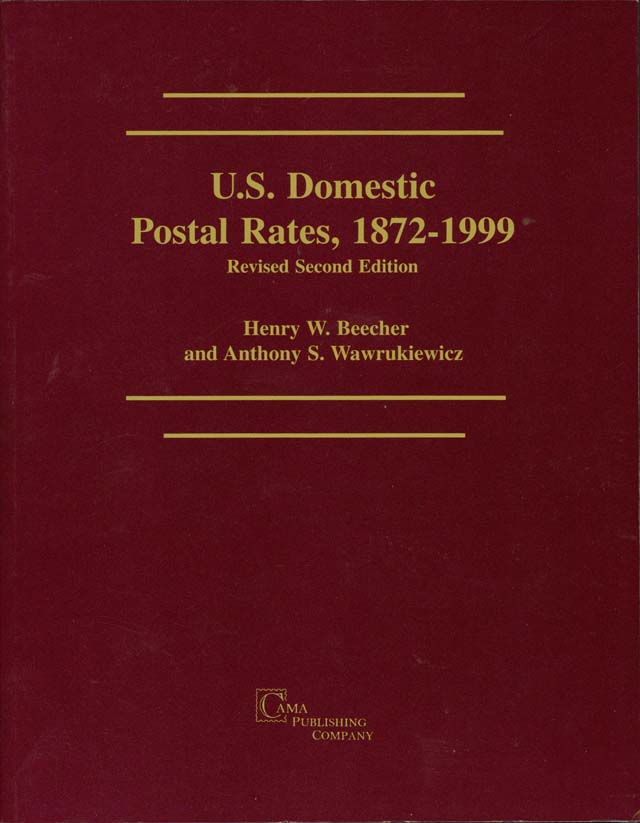 First, I'll start with this cover sent May 29th, 1962. It is franked with the 4¢ World United Against Malaria Campaign stamp and was sent from Haddock, GA to Macou, GA. In Beecher and Wawrukiewicz, the first chapter is titled 'First-Class, Letter, Surface'. On page 8, there is a table for the rates for first class letters and from August 1st, 1958 until January 6th, 1963, covers weighing less than one ounce was 4¢.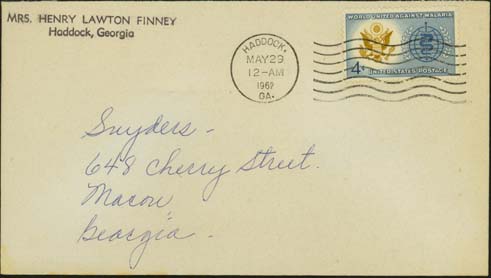 This cover is similar but yet, very different. It also has a single 4¢ World United Against Malaria Campaign stamp but it is postmarked December 21st, 1963. This is later than January 6th, 1963 which is when the rate changes to 5¢. Was it underpaid and the sender got lucky? Beecher and Wawrukiewicz has a chapter titled "Third Class (Standard Mail (A)), Single Piece" starting on page 110. But this doesn't look like a traditional 3rd class letter. From May 4th, 1911 to January 7th, 1968, unsealed cards could be sent at the third class rate. Christmas and Easter cards were included in this category. I looked at the back of the envelope and it appears that it was not sealed so the cover had the correct postage on it.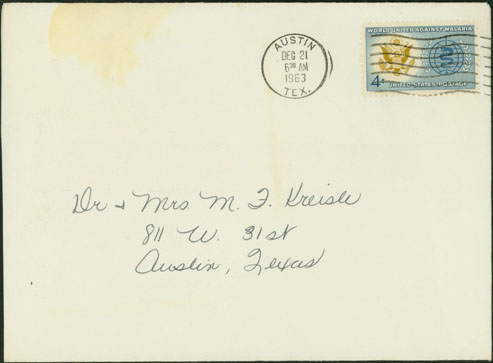 The cover below which was sent from Davidson, NC to Decatur, TN on April 9th, 1962 and was franked with two 4¢ World United Against Malaria Campaign stamps. This cover must have weighed over one ounce and less then two ounces which is why the second stamp was added. The rate was 4¢ per ounce from August 1st, 1958 until January 6th, 1963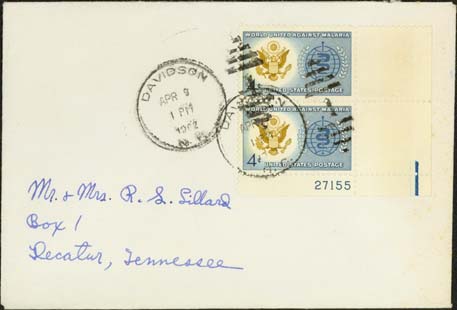 This cover was sent May 14th, 1962 from Stamford, CN to Cranston, RI. The cover was sent "Special Delivery" and there is a whole chapter in Beecher and Wawrukiewicz titled "Special Delivery Service". On page 248, there is a nice chart which lists the 30¢ rate for Special Delivery Service in effect from July 1st, 1957 until July 13th, 1969. The other 4¢ on the cover paid for the first class surface letter rate because the Special Delivery service is an additional service.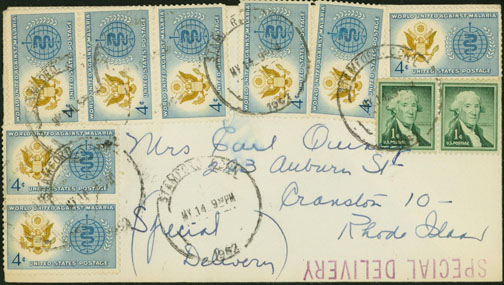 With a Walgreen Drug Store corner card, this cover was sent July 27th, 1962 from Anderson, IL to their headquarters in Chicago, IL. Once again, 30¢ paid for the Special Delivery Service the other 8¢ on the cover paid for the two ounces that the cover must have weighed.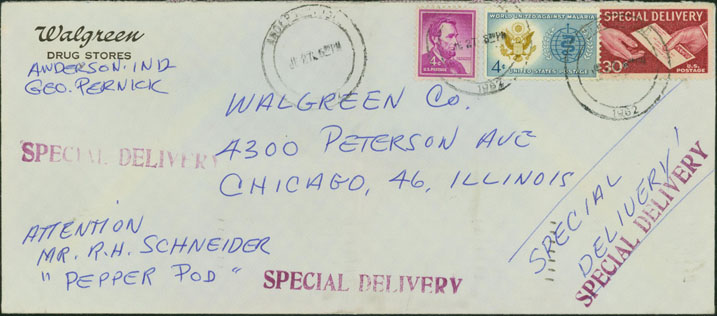 Here is a postcard sent from Gresham, OR to Santa Barbara, CA on August 6th, 1963. It looks like it might be overpaid because 4¢ was paying the first class letter rate earlier in the year. But back to Beecher and Wawrukiewicz; there is a chapter titled "First-Class, Postal and Post Cards, and Stamped Cards" and on page 37, there is a table that has a rate of 4¢ from January 7th, 1963 until January 6th, 1968 so any postcards you find with the 4¢ World United Against Malaria Campaign stamp on it during this time frame are worth keeping.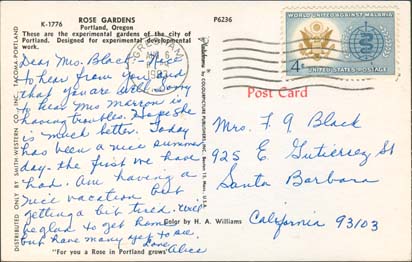 This is a 1¢ George Washington postal reply card uprated to 5¢ with the 4¢ World United Against Malaria Campaign stamp. On page 37, the Beecher and Wawrukiewicz book has a chart with the postal/postcard rate of 5¢ from January 7th, 1968 until May 15th, 1971 and this card was sent from Joppa, MD on March 14th, 1970 to Kenosha, WI so the correct postage was paid.
*If any reader has other commercial covers with Scott U.S. 1194 with different domestic rates, please contact me at
malariastamps@yahoo.com