International Association for Medical Assistance to Travelers
(Published: July, 2009, Volume 9, Number 2, Issue #28)
(
Table Of Contents
)

(Author: Larry Fillion)
The following paragraphs in the box are taken from
http://www.iamat.org/about_our_work.cfm
. I would summarize but the IAMAT can explain itself the best. Please go to the site as there is a lot more information that what I have here.
Providing Travel Health Advice, Coordinating an International Network of Doctors and Clinics, and Preventing the Spread of Infectious Diseases
Our mission is to provide impartial and accurate travel health advice and to coordinate an international network of qualified medical practitioners to assist travellers in need of emergency medical care during their trip.
Our goal is to prevent the spread of infectious diseases by travellers. To advance global health objectives, we want to award more scholarships and grants to healthcare practitioners from developing countries to study, research, and train in the field of travel medicine and health.
Our vision is to live in a world where peace and understanding can be attained through international travel. The friendships gained while travelling often bring about a sense of solidarity and evoke a spirit of cooperation. Our motto Ut Unum Sint - 'Let All Be One' in Latin - expresses the dream of working together for the common good.
30 years ago, IAMAT must have had a slightly different mission and goals but it would be close the current one. There is a page on the site that has the original story about IAMAT at:
http://www.iamat.org/about_our_story.cfm
IAMAT Label
"Protect Travelers Against Malaria"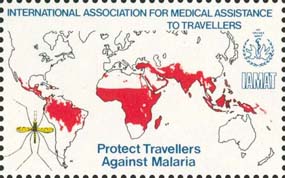 Many years ago, I picked up one the labels above on eBay but just stored it in a binder. When I purchased Ron Ward's (first President of the MPI) collection in the summer of 2008, the cover below was included. This sparked a renewed interest and I wanted to know more.
IAMAT commercial cover sent December 6, 1981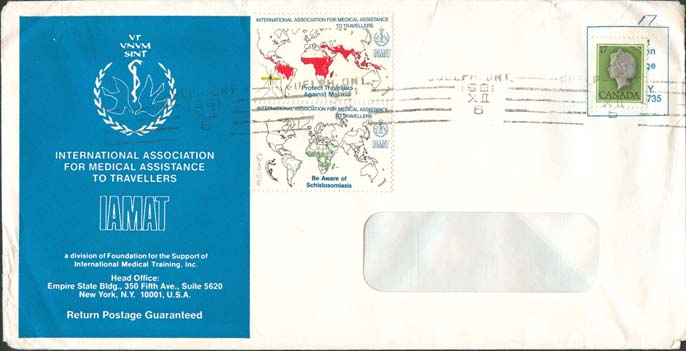 I corresponded with people at IAMAT to find out more about the labels. I was told that the Malaria stamps were part of a 3 year campaign (1978-1980) to raise awareness about the disease. Also, labels for schistosomiasis were created and used on covers in the same time period. With Ron's cover being sent in 1981, it seems that the campaign ran a little longer. Raising awareness was one of the main goals of the W.H.O. when it started 'The World United Against Malaria' campaign. (Of course, getting money to help combat malaria was a main goal also.) The more covers with the malaria stamps from 1962 and then with these labels from 1978-1981, more people would become aware that malaria is such a huge killer. I did not get much more information than that but they were very generous and I was sent a full sheet of the malaria labels and also a full sheet of the schistosomiasis labels. I was told that they were keeping any left in their archives.
IAMAT label - Malaria - Full Sheet

IAMAT label - Schistosomiasis - Full Sheet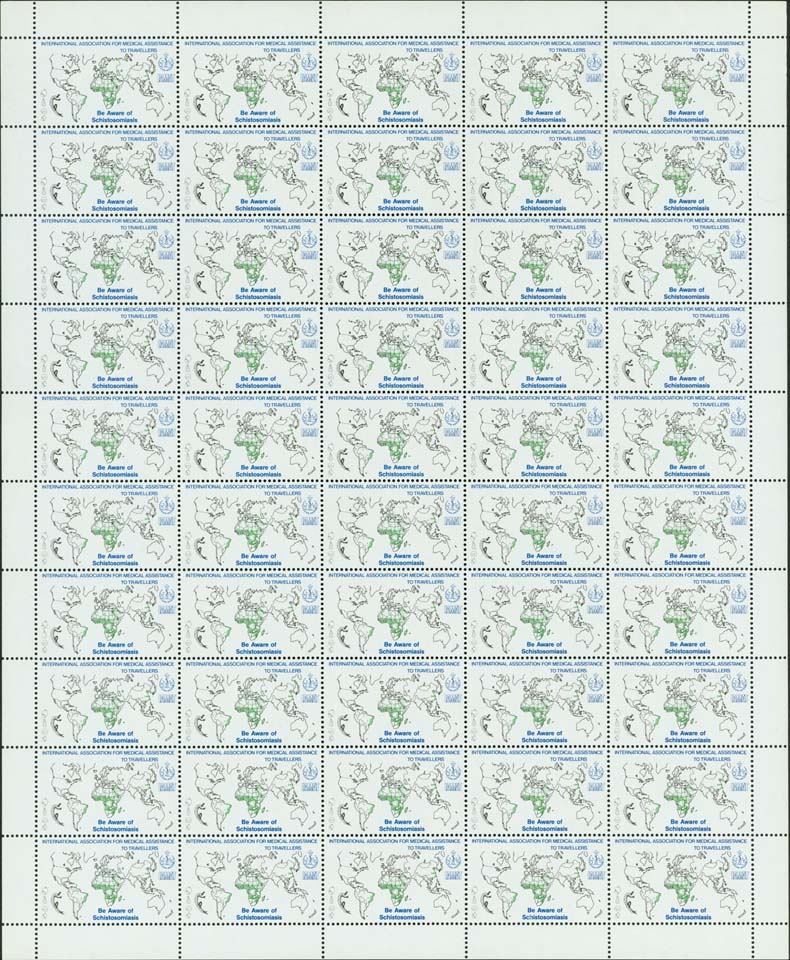 I was interested in getting the latest IAMAT corner card so I donated some money to the IAMAT organization and asked for a receipt to sent to my mailing address. Below is the cover I received along with letter on the IAMAT letterhead which I will keep with the collection. IAMAT is a non profit so the donation is tax deductible.
IAMAT cover sent for the receipt of a donation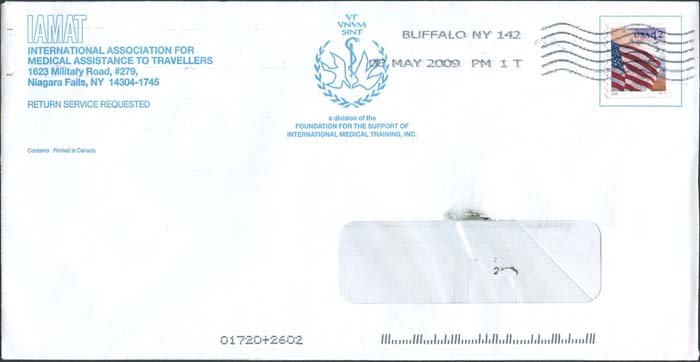 *If any reader has other information about IAMAT or other covers with the IAMAT labels, please contact me at
malariastamps@yahoo.com