United Nations Personalized Sheet
(Published: July, 2009, Volume 9, Number 2, Issue #28)
(
Table Of Contents
)

(Author: Larry Fillion)
On June 5th, 2009, the United Nations Postal Administration (UNPA) reissued the 'United Nations Greetings From New York' personalized sheets. The UN First Day of Issue for two sheets of rate change stamps in 44¢ and 98¢ denominations. The First Day Ceremony was at 1:30 at the McLean Hilton in McLean, Virginia at NAPEX. Ambassador Ed Peck was the keynote speaker. The stamps show new views of the UN Buildings and they include space for personalization which could be ordered in advance or photos will be taken at the Stamp Show with personalized stamps to be delivered the following week.
I sent an image of the MPI logo (I am also a member of the UNPI (United Nations Philatelists International) so I also sent in an image of the logo of the UNPI). The sheets of stamps were ready for me when I attended the First Day Ceremony. Below is an image of a full pane of the personalized stamps with the MPI logo.
I also had time to print some FDCs with the MPI logo and brought them to the show to get canceled. I had 5 of these cachets printed when my printer broke. Right after the ceremony, I put the stamps on the covers and handed them to Malli Hui; whom works for the UNPA and she brought them back to New York and had them cancelled and sent them out to me. When I got back home and fixed the printer, I printed the cachet on some more envelopes and sent them to New York - they are still there? At least they have not arrived back here yet. Hopefully they will come soon and will all have nice clear cancels on them.
United Nations Personalized Sheet With MPI Logo - Issued June 5th, 2009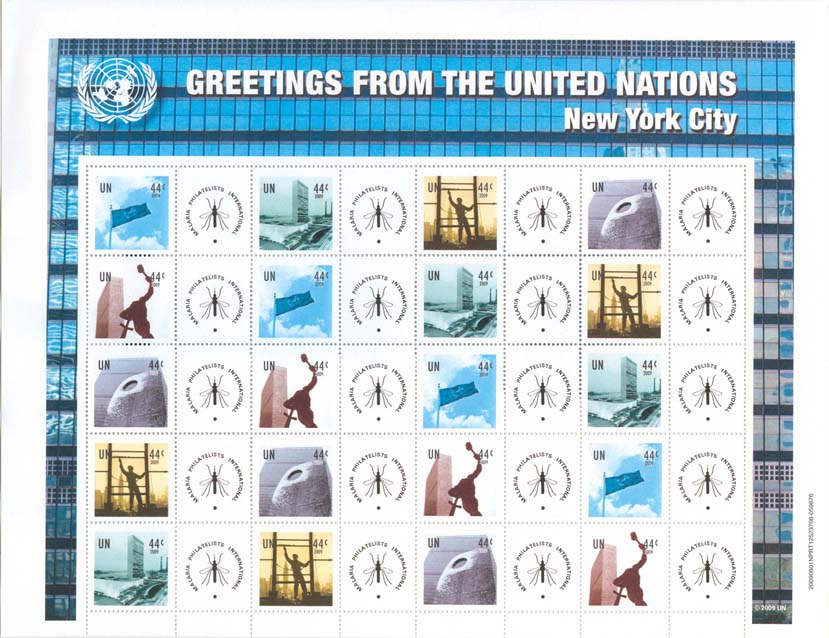 Below are the 5 stamps with personalized labels on the FDCs.
*If any reader has any personalized stamps from the U.N. or other countries, please contact me at
malariastamps@yahoo.com