UNTEA (United Nations Temporary Executive Authority) Cover
(Published: July, 2009, Volume 9, Number 2, Issue #28)
(
Table Of Contents
)

(Author: Larry Fillion)
In the last Miasma, there was an image of a UNTEA (United Nations Temporary Executive Authority) cover with an article about Ron Ward selling his collection:
Passing Of The Touch - Ron Ward Sells His Collection Intact
. Since then, I have read more information online about the UNTEA and about this cover.
The western half of the island of New Guinea, previously Netherlands New Guinea, and at the time was West Irian, became a territory under the United Nations Temporary Executive Authority on October 1st, 1962 and on May 1st, 1963 went under Indonesian control. The UNTEA only had control for 7 months which is a pretty short time for postal history.
Ron Ward was working at the Walter Reed Army Institute of Research and had sent a request to the Malaria Prevention Office about some mosquito specimens for a research project. The cover was sent through the Hollandia Noorwijk Post Office and cancelled October 20th and used West Irian Scott #11 and #12. I will identify/translate some interesting facts about this cover. A few of these translations were part of an original article in one of the original Miasma issues from 1980:
Miasma Issue #3
.
DIENST
= Service/Department
V.V.P.
(vris van port) = No Postage Required
Malaria Bestrijding
= Malaria Supression/Prevention
Gezondheidszorg
= Health care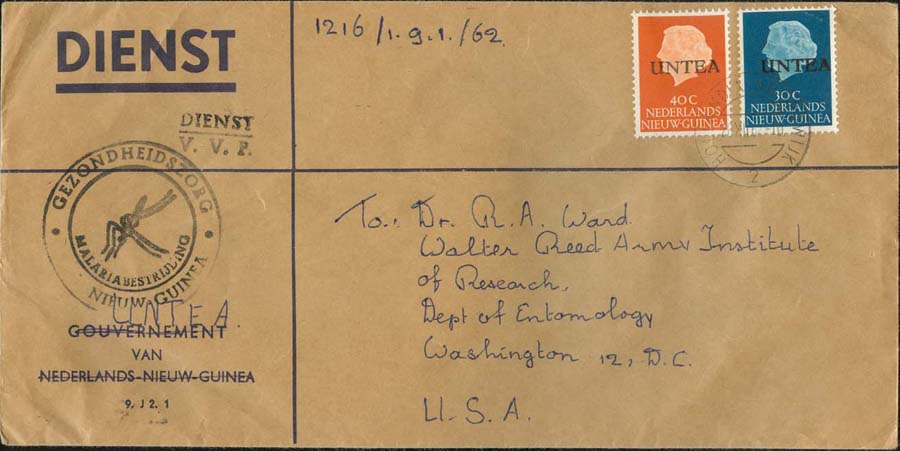 *If any reader has other information about UNTEA or comments on this cover, please contact me at
malariastamps@yahoo.com